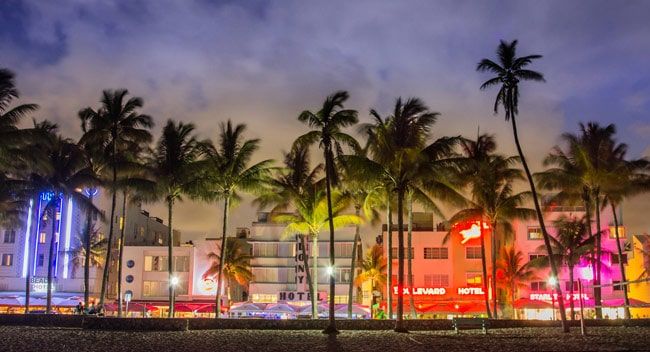 This cosmopolitan city is diverse, sunny and full of life. Everything you've heard about the stereotypical Miami lifestyle is true; think white sandy beaches, Cuban flare, perfect weather and an extravagant party scene.
A walk along the famous South Beach will give you a snap shot of what this colourful city has to offer. You'll see everything from the super-cool surfers cruising around the sand, to the ultra tanned and buff celebrities hanging around the of-the-moment lounge bars and cafes. The iconic Collins Avenue is the go-to street, with most major attractions and activities branching off this main thoroughfare. As the home to most of the famous and ultra-expensive hotels in Miami, Collins Ave. has earned its title as 'Millionaires Row'.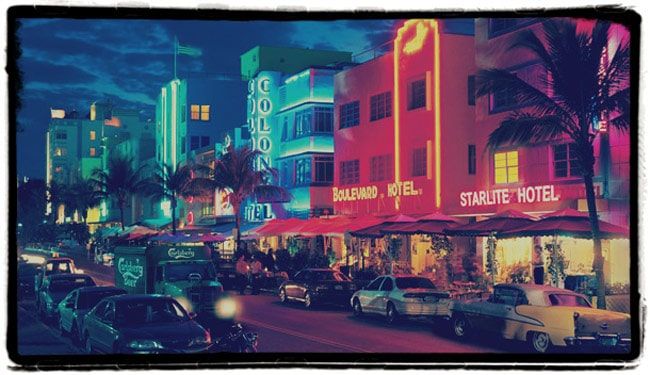 South Beach, or SoBe as it's affectionately known, is where you go to party. The iconic multi-coloured beachfront of Ocean Drive is the place to be 'seen', but if you're anything like me, it's also the place to spy on the 'seen'! Other areas such as Coconut Gove and Little Havana have a little more of a relaxed vibe, showing off Miami's Caribbean and South American influences. All in all we can't get enough of this sunny, city escape. With its amazing shopping, beach culture, great food, and no shortage of places to kick up your heel, Miami is always on our travel radar!
Stay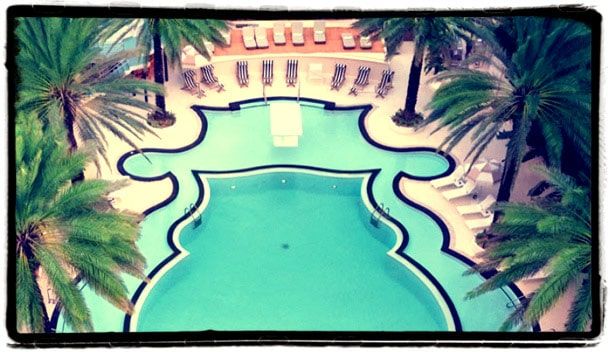 Miami Beach is definitely the area where you want to stay. Whether you're there to party, shop or just relax, Miami Beach is the place. Although rooms are typically quite small, with all the sunshine outside we doubt you'll be spending much time indoors. Our picks are the cute, boutique hotels because they give you all the facilities and indulgences of a luxury hotel… but without the extravagant price tag. The Standard Miami, and Townhouse both have a hip and modern vibe, great for couples or groups. We particularly recommend the view from the Lido Restaurant at The Standard – it's unbeatable for sunset cocktails and an early evening dinner!

The boutique hotels cater more for those who are after an adult getaway. If you're travelling with kids we recommend going for one of the bigger hotels with a pool. And if you're talking pools, you definitely can't go past the Raleigh Hotel. Although it's a little pricier than the boutique options, the pool is the by far the best in town (pictured above), as well as ocean-view rooms and easy beach access. The 1940s style décor is also very chic, making this hotel a lot more stylish than its ultra-glam, over-the-top competitors. We'll admit the Raleigh is a bit of a splurge, but for the facilities (that pool!) and the convenient location, we feel like it's a savvy investment.
Eat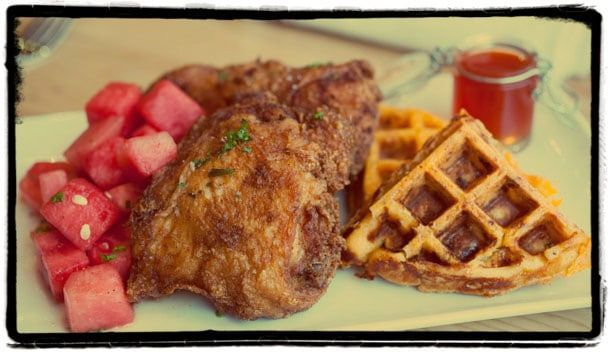 For dinner, Michy's (6927 Biscayne Boulevard, Miami) isn't just recommended – it's mandatory! Unlike the rest of the restaurants around the beach, Michy's isn't overpriced and the atmosphere is warm and inviting. Service is down-to-earth and the food has a Central/South American twist. For a more special night out, try Casa Tua (1700 James Ave, Miami Beach). This place is hugely popular, so aim for a lunch booking in order to secure a table, and leave your thongs at the hotel – this place is classy!

Don't forget to try some traditional American fried food… after all you are in the South! Yardbird (1600 Lenox Ave, 'Miami Beach) is a fun and delicious place to start. With several award nominations, including Best New Restaurant in 2012 and Best Chef, the food doesn't disappoint. Dishes like fried chicken and waffles (pictured above) draw massive crowds to this restaurant, but it's totally worth it for the authentic soul-nurturing, southern food. Another typical Miami dining experience is Cuban food. You haven't lived the true Miami lifestyle until you've tried a traditional medianoche (basically a super-tasty toasted sandwich). There are lots of Cuban eateries along the beach, but we think Puerto Sagua (700 Collins Ave, Miami Beach) is the best. You have to try these toasted sandwiches – particularly recommended to cure Miami-partying induced hangover!

For something sweet, the Buenos Aires Bakery is home to the tastiest treats in town. Don't be fooled by the nondescript look of these pastries – their tasty goodness is concealed within. And if you're feeling a little weighed down with all deliciously unhealthy food on offer, you can head to JugoFresh for some cleansing, organic, cold-pressed juices. My favourite is the Vamos Green – apple, cucumber, romaine, celery, kale and chard – the best energy boost!
Shop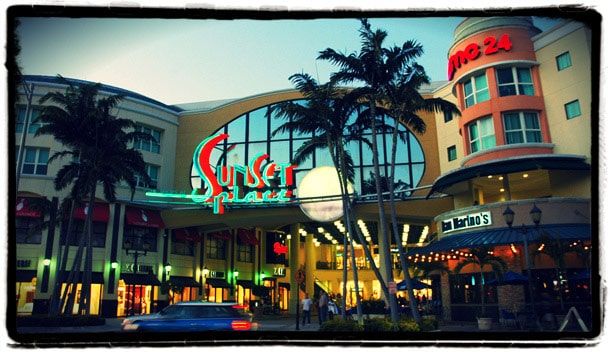 swiish readers, get ready to shop! Like all good American cities, Miami has all the stores you've come to love. A walk further down Collins Ave will take you to Armani Exchange, Victoria's Secret, Sephora (my fave!), Urban Outfitters, M.A.C, Steve Madden, Zara and more. A couple of the standouts for the swiish team are Barney's Co-op and Base. Not only is the two-story, art deco, Barney's store absolutely gorgeous, but it contains all the your favourite of-the-moment designer brands. This was the first Barney's to open outside of its traditional Manhattan base, and although the clothes are expensive, it's worth having a sticky-beak. Base, on the other hand, is the place to go for quintessential cool! Located on Lincoln Rd, this modern store is where the ultra cool locals and fashion savvy tourists go to shop.
Play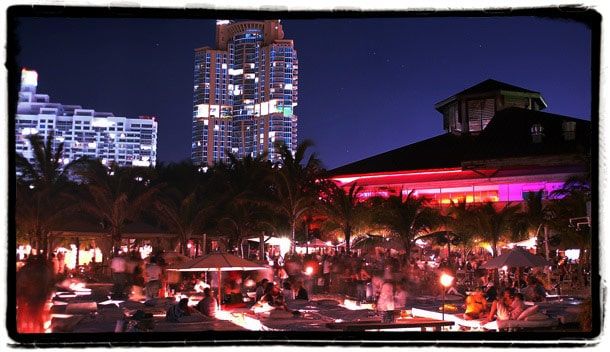 For nighttime fun, Miami more than has you covered. The big popular bars and clubs are pumping until all hours of the morning. Places like The Broken Shaker, Gale's Rec Room, Living Room Bar and Mynt are favourites of celebs and hardcore-partiers. Not planning on raving until 6am? Don't worry, there are plenty of more reasonable places to grab a casual drink and have some more low-key fun. Whether you're staying at The Raleigh or not, the hotel is home to two of Miami's best bars, in our opinion. The Piano Bar is pretty casual, with a young and loud crowd, and the Martini Bar is a bit more adult with an amazing wine list. Miami is also home to one of our favourite Irish pubs. Random – we know! But the Playwright Irish Pub and Restaurant (1265 Washington Ave. Miami Beach) is actually lots of fun. It doesn't have the same over-the-top, hyper-tanned crowd of most Miami bars and the fish and chips are a must.

If you're after some fun for young ones (or young-at-heart), Sky Zone should be next on your list. 16,000 square feet of trampoline park… need we say more? And once you've exhausted the kids, and yourself, you might want to book in for some pampering. Trust us when we say, Miami hotels know how to do a spa day! Our pick of the bunch is the Cowshed at Soho Beach House. Complete with hammocks, mud baths, yoga, cleansing juices and a myriad of different massages and treatments – you won't be disappointed!