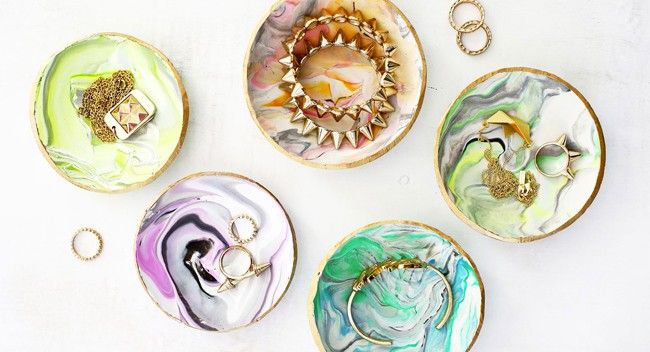 After the howling success of these DIY gold leaf bowls (you can see that post here), I've been on the hunt for pretty dishes to put my trinkets in. At the rate I'm going I'll probably have more decorative bowls and dishes than trinkets but who cares?! They make an amazing gift too.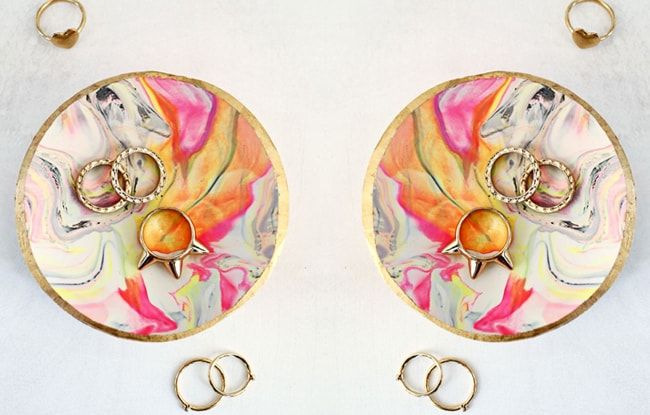 This marbled clay ring dish from A Beautiful Mess is perfect for storing keepsakes as well as keys (who doesn't lose those from time to time?). It's also completely foolproof and a great rainy Sunday activity. But the greatest thing is they look so luxe, nobody would ever guess they're homemade! That's the power of gold paint. Like I always say, gold is… well, gold!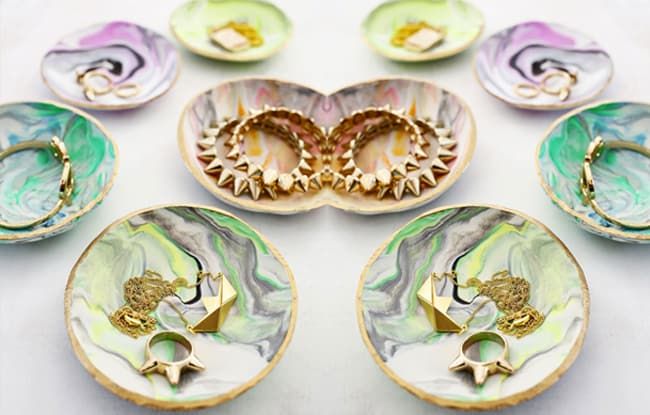 You will need:                                                                                                                            
oven bake clay in the colours of your choice
a knife or craft scalpel
a small bowl/ramekin that is oven safe
metallic gold acrylic paint
a rolling pin or glass jar
a large can or jar to trace around
oven bake glaze (optional)
What to do:

1. Roll your colours into snakes about 5 inches long.  Go easy on dark colours as they tend to be overpowering. 

2. Twist together the smaller rolls into one 

big one.

3. Now roll this into a snake about twice its original length, twisting and twirling the ends in opposite directions. Fold it in half and twist the two ends together, then roll this into a long snake again. Repeat the process 2 – 3 times.

4. Squash the snake into a ball. You'll want to see most colours on the ball's surface.

5. Roll out the clay using a rolling pin or glass jar, playing around with different angles and directions (but don't overwork it). This should make a marbled, multicoloured pattern.

6. Once the clay is 1/4 inch thick, it's time to cut. With a round item about 6 inches wide, trace the shape using a knife or craft scalpel.

7. Place the circle in an oven safe bowl that is slightly smaller to create a dish shape. Bake the bowl according to manufacturer's instructions and when the clay is completely cool, simply turn the bowl over and tap until the clay comes out.

8. For a luxe finish, paint the rim of the dish (or even the entire outside) with metallic gold acrylic paint. When that's dry you can also make your dish glossy with a coat of oven bake glaze.