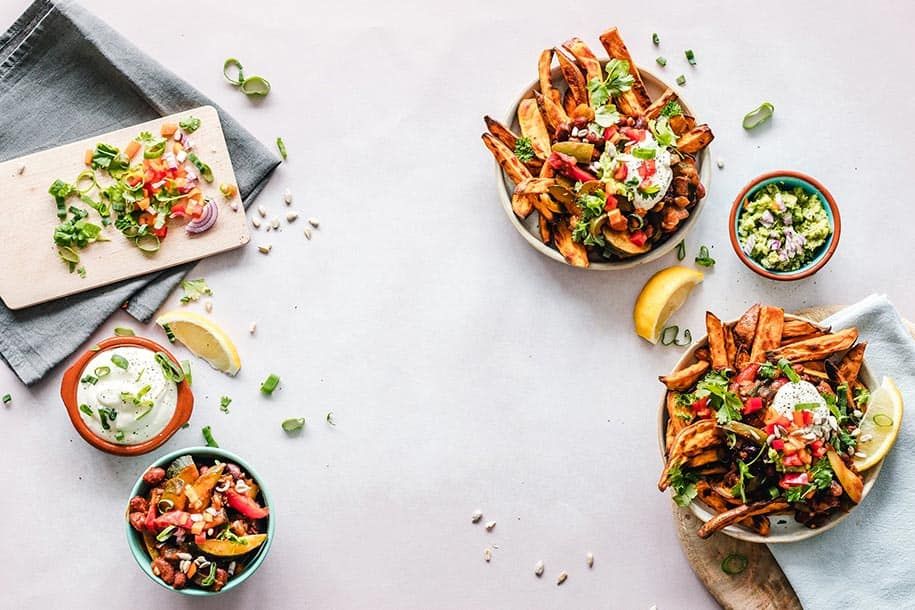 YUM. If you're looking for a veggie-friendly meal the whole family will love (yes, even the hardcore meat-eaters) then this Loaded Mexican Sweet Potato Nourish Bowl is for you.
LOADED MEXICAN SWEET POTATO NOURISH BOWL
Vegetarian
Serves 4
INGREDIENTS
2 large sweet potatoes, peeled and cut into 1cm thick chips
3 tbsp olive oil
3 tsp paprika
1 red onion, finely chopped
2 garlic cloves, crushed
1 tsp ground cumin
400g tin black beans, rinsed and drained
2 large tomatoes, chopped – keeping aside a small handful, to serve
Salt and pepper, to season
1 avocado
Juice of ½ a lemon
Sour cream, to serve
Fresh coriander, roughly chopped, to serve
Fresh shallots, chopped, to serve
Lemon wedges, to serve
METHOD
Preheat oven to 220ºC. Line 2 baking trays with baking paper. Combine the sweet potato, oil, and paprika in a large bowl. Season with salt and pepper. Toss to combine, then spread evenly over the baking trays in a single layer. Roast for approximately 20 minutes, or until golden.
While the sweet potato chips cook, heat remaining oil in a large frying pan over medium heat. Cook onion for 5 minutes, or until soft. Add garlic, remaining paprika and cumin and cook for 1 minute. Add the black beans and tomato and cook for a further 5 minutes, or until the tomato has softened. Season with salt and pepper.
In a small bowl, mash the avocado adding lemon juice to the mix. Season with salt and pepper.
To serve, layer the sweet potato chips, bean mix, guacamole, a dollop of sour cream and garnish with coriander, shallots, fresh tomato and lemon wedges.
WANT MORE? CHECK OUT OUR RECIPES SECTION AND OUR BOOKS FOR MORE NUTRITIOUS TASTY MEALS.