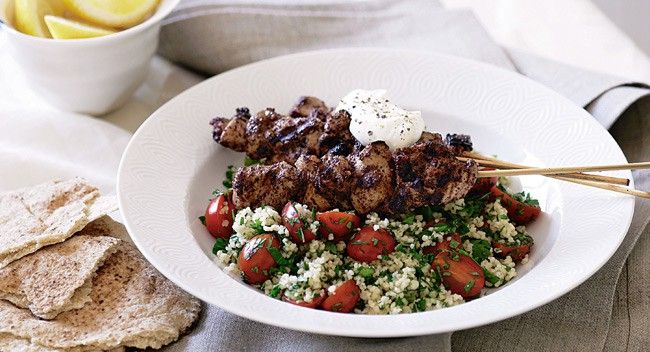 I absolutely loved that iconic 80's TV ad campaign where Naomi Watts turned down a date with Tom Cruise for her mum's lamb roast. She may have had a point – roasts are easy to cook and there are usually plenty of leftovers to feed the family for at least another dinner.
You can transform that leftover leg of lamb into a completely new meal. Try one of these three delicious recipes:
Indian Style Lamb & Eggplant Pizzas
Ingredients
1 tbs olive oil
1 onion, chopped
2 garlic cloves, chopped
1 (about 400g) eggplant, cut into 1cm pieces
8 fresh curry leaves (see note) (optional)
2 cups of cooked lamb, shredded or finely sliced
1/3 cup (110g) tomato kasundi (see note)
4 naan breads
2 tomatoes, seeds removed, chopped
1/2 cup (140g) thick Greek-style yoghurt
1/2 cucumber, coarsely grated
Juice of 1/2 lemon
2 tbs chopped coriander
Method
Preheat oven to 200°C.
Heat oil in a frypan over medium heat. Add the onion and garlic and cook, stirring, for 3-4 minutes until softened. Add eggplant and curry leaves (if using) and cook, stirring, for 6-7 minutes until lightly golden. Stir in the kasundi and season.
Place naan on a baking tray and top with the cooked lamb. Top with tomato and bake for 6-8 minutes until warmed through and edges are starting to crisp.
Mix yoghurt, cucumber, juice and 1 tbs coriander together in a small bowl and season. Dollop the yoghurt mixture on the pizzas and scatter with remaining 1 tbs coriander. Cut into slices and serve.
Note: Fresh curry leaves are available from greengrocers. Tomato kasundi is a spicy Indian tomato relish available from delis.
Adapted courtesy of www.taste.com.au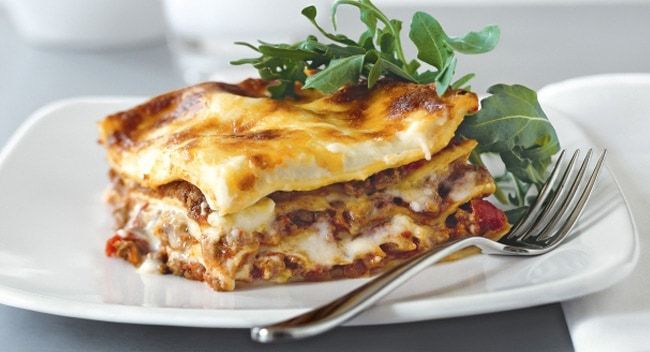 Quick Moussaka
Ingredients
1 tablespoon olive oil
1 large onion, chopped
1 garlic clove, crushed
3 cups (560g) chopped cooked lamb
400g can diced tomatoes
¼ cup chopped parsley
1 eggplant, sliced and grilled (see tip)
500g light sour cream
2 eggs, beaten
1 cup (100g) grated mozzarella
Salad, to serve
Method
Preheat oven to 180°C.
Heat oil in a large frying pan on high. Sauté onion and garlic for 1-2 minutes, until onion is tender.
Stir in lamb, tomatoes and parsley. Season to taste. Spoon into a casserole dish. Top with a layer of eggplant.
In a bowl, combine yogurt and eggs. Pour evenly over eggplant. Sprinkle with mozzarella. Bake for 20-25 minutes. Serve with salad.
Note: To cook eggplant, cut into 0.5cm slices, brush with a little olive oil and grill until both sides are golden. Greek yoghurt can be used instead of light sour cream.
Courtesy of www.ninemsn.com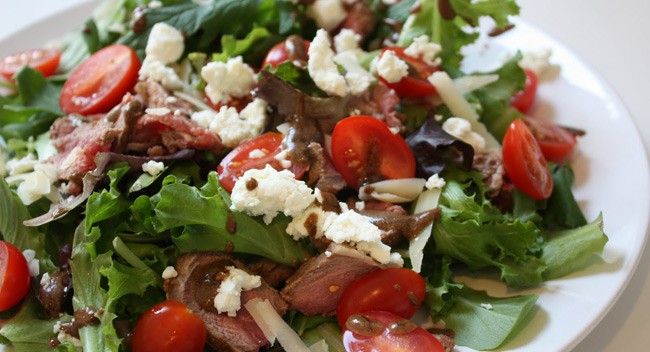 Feta and Lamb Salad
Ingredients
400g cooked, sliced lamb
1 tbsp Coles Olive Oil
1/2 Rustic Baguette, cut into cubes
275 g Cherry Tomatoes
50 g Baby Rocket
50 g Mixed Lettuce Leaves
50 g Feta, crumbled
Garlic Dressing:
1/4 cup Extra-virgin Olive Oil
1 lemon, juiced
1 clove garlic, crushed
1tsp brown sugar
Method
Scatter bread cubes on a baking tray. Drizzle with olive oil and season. Gently toss to coat. Place tomatoes on another tray. Bake bread and tomato trays for 12 mins, or until bread is crisp and golden and tomatoes are soft.
Place rocket, lettuce, tomato, fetta and croutons in a bowl and toss to combine. Whisk together dressing ingredients. Slice lamb, add to salad with dressing and toss to combine.
Courtesy of www.coles.com.au