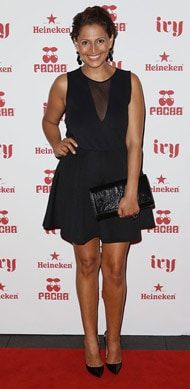 This week, I went along to the launch of Justin Hemmes' new entertainment experience, Pacha. To celebrate the launch, we first headed to dinner at Felix. Take a look at my snap of the menu – it was absolutely delish! The best part was that they served one of my absolute favourite dishes, tuna nicoise. We are not talking the kind of slapped together tinned tuna salad like I make at home! This was amazing!
Pacha is huge, heaving and feels like a summer dance party! Pacha are known for the huge parties they throw in Ibiza and now Sydney is lucky to get the Pacha treatment too. The venue was incredible and the atmosphere electric.
Truth be told though, my inner nanna kicked in and I was home on the couch by 9:30pm… perfect because I felt like I had the best of both worlds – late enough to have had a night out, and early enough to still settle in for a DVD.