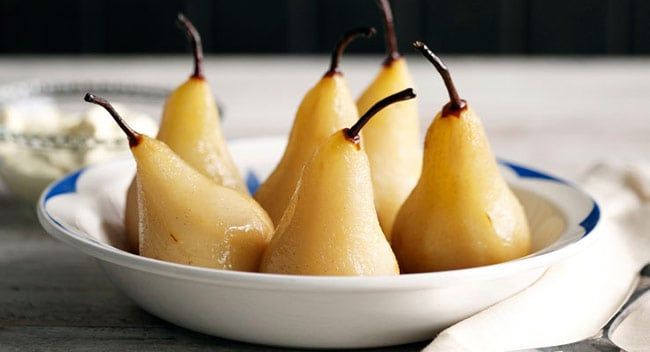 Their cousin the apple usually overshadows them, but this season it's all about pears.
Packed with vitamins and high in fibre, pears are not only an excellent choice to munch on between meals, but they're also very versatile. With so many different varieties and flavours, they make a great ingredient for cooking as well.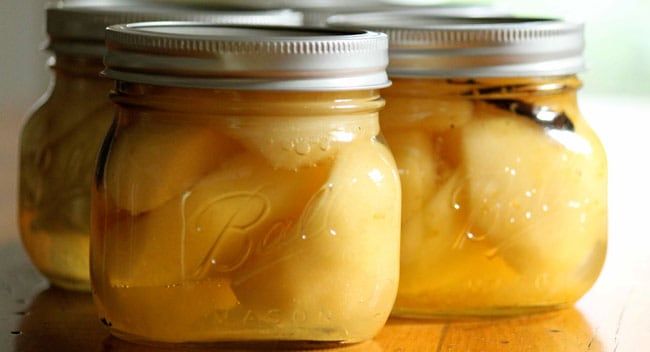 Here are our top picks for pears that are best this season:
Josephine de Malines

Large in size and super juicy, this pear is best eaten on its own as an afternoon snack to tide you over before dinner.

Winter Nelis

Also known as the honey pear, this baby is super sweet so makes a killer dessert ingredient.

Corella Forelle

Bring back those summer memories during the sombre winter weather by adding this pear to a salad.
Here are a few of our favourite recipes:
Butternut Pumpkin & Pear Soup
(serves 4)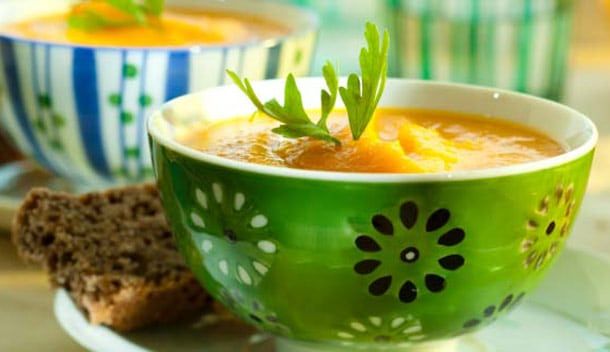 What You'll Need:
• 2 tsp olive oil
• 1 cup finely chopped onion
• 1 tbsp curry powder
• 500 grams butternut pumpkin, peeled and diced
• 2 ripe medium pears, peeled, cored and diced
• 3 1/2 cups of chicken or vegetable stock
• Salt and pepper, to taste
What to do:
1. Heat oil in a large saucepan on medium heat. Gently sauté onions until softened—about 5 minutes. Add curry powder and stir, sautéing for 1 minute.
2. Add butternut pumpkin and pear pieces. Sauté for 3-4 minutes.
3. Pour in chicken stock and bring to a boil. Reduce heat to low, cover and simmer for 20 minutes until pumpkin and pear are tender.
4. Transfer soup to a food processor or blender and purée until smooth, working in two batches if necessary.
5. Season to taste
Pear, Walnut & Haloumi Salad
(Serves 6)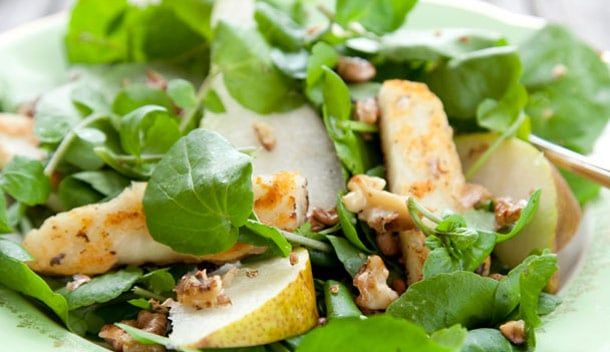 What You'll Need
• 4 tbsp neutral oil (eg grapeseed)'
• 1 cup fresh walnut pieces
• '2 just ripe pears'
• juice of ½ lemon
• '250g haloumi, thinly sliced
• '6 handfuls (150g) fresh watercress sprigs or baby spinach leaves'
• 2 avocados, cut into chunks (optional)'
• salt and ground black pepper
What To Do:
1. Heat 3 tbsp of the neutral oil in a frypan and fry the walnuts over a medium heat until lightly browned – about 2-3 minutes. Lift out of the oil with a slotted spoon and drain on a paper towel. Reserve the oil to dress the salad. Alternatively, roast them dry on an oven tray at 180°C for 12-15 minutes.
2. Halve and core the pears and slice each half into 6-8 wedges. Place in a mixing bowl and toss gently with the lemon juice.
3. Heat the remaining 1 tbsp oil in a frypan over a high heat. Fry the haloumi slices until they are golden on both sides.
4. Place watercress or spinach in a large mixing bowl. Add the pears and their juices, the walnuts and their oil (if the walnuts have been baked, add 2 tablespoons olive oil), the fried haloumi and the avocado, if using. Season to taste with salt and pepper then toss gently. Transfer to a serving bowl or individual plates to serve
 Chocolate & Pear Tart
(Serves 4)
What You'll Need:
• 75g (1/3 cup) caster sugar
• 2 tbs Dutch cocoa (available from delis)
• 80g pecans
• 50g dark chocolate (50% cocoa solids), finely chopped
• 80g cold unsalted butter, finely chopped,
• 1 egg
• 2 sheets puff pastry
• 2 firm william bartlett pears
• 2 tsp plain flour
• 1 tsp vanilla bean paste
• 2 tbs icing sugar (or warmed apricot jam – see 5) below)
• Double cream, to serve
What To Do:
1. Process 55g (1/4 cup) caster sugar, cocoa and pecans in a food processor until pecans are finely ground. Add chocolate, 60g butter and egg, and process until mixture forms a paste.
2. Preheat oven to 220C and line an oven tray with baking paper. Place pastry on tray. Using a 24cm cake pan as a guide, cut out a 24cm round from pastry. Place a 21cm cake pan in the centre of the round, and, using it as a guide, score a 21cm round in pastry to create a border. Freeze tart base until needed.
3. Quarter pears, then core and cut lengthwise into 3mm-thick slices. Place flour, remaining 1 tbs caster sugar and pears in a bowl. Spoon over the vanilla, then, using your hands, toss to coat.
4. Spread chocolate mixture over pastry within scored round. Place similar-sized pieces of pear, tightly overlapping, over chocolate mixture (you will have some leftover pear). Melt the remaining 20g butter and brush over the pears. Bake tart for 15 minutes, then reduce oven to 190C and bake, covering loosely with foil if the pastry is over-browning, for a further 25 minutes or until pastry is dark golden and puffed. Set tart aside for 10 minutes to cool.
5. Dust tart heavily with icing sugar, then, using a kitchen blowtorch (if you have one), caramelise pears. If you don't have a kitchen blowtorch, then skip the icing sugar and glaze the tart with warmed apricot jam instead.
6. Serve the tart warm or at room temperature with double cream.
Vanilla, Pear & Vodka Cocktail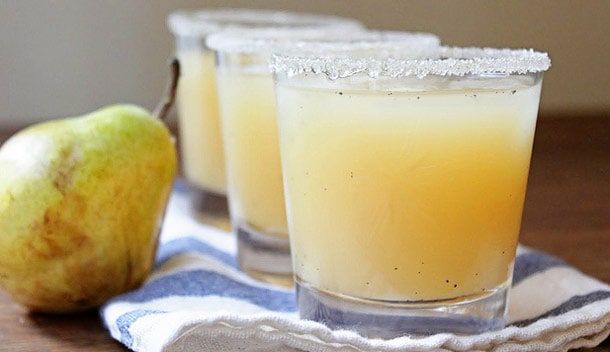 What You'll Need:
• 1.5 cups pear juice
• 170ml vodka
• 1/2 vanilla bean, seeds scraped
• vanilla sugar (available at supermarkets), for rim
• 1 cup ice, plus more to serve over
What To Do:
1. Mix pear juice and vodka in a jug or shaker.
2. Split open the vanilla bean, and scrape the seeds into the juice and vodka. Add 1 cup ice, then give it a good shake.
3. Pour into cocktail glasses over more ice and serve with sugared rim.
Recipes courtesy of: 
taste.com.au, insidecuisine.com, two-tarts.com and adapted from lowfatcooking.com