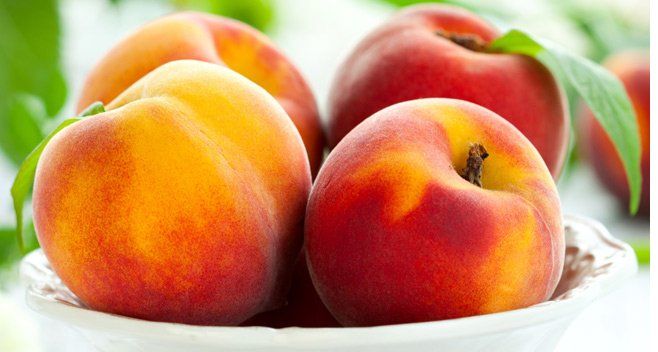 Stone fruits are at their absolute best right now and peaches are a swiish favourite. Enjoyable on their own as a delicious snack, we also love to cook with them in a variety of ways, both sweet and savoury. Here are a few recipes we'd love for you to try.
Peach and Coconut Cupcakes

Equipment:

You will need 8 muffin cases.

Ingredients:

125g unsalted butter, chopped
3/4 cup desiccated coconut
11/2 cups icing sugar, sifted, extra for dusting
11/4 cup self raising flour, sifted
1 egg, lightly beaten
4 egg whites
2 peaches, stone removed and flesh chopped

Method:

Preheat oven to 170°C. Place butter in a saucepan over medium heat. Heat until fully melted. Remove and set aside.
Place coconut, icing sugar and flour in a large bowl and make a well in the centre. Fold egg, egg whites and melted butter into the mix until fully combined then fold through peaches.
Line a 3/4 cup capacity muffin pan tray with 8 muffin cases. Spoon the mixture into each lined hole and bake for 25-30 minutes or until golden and cooked through. Remove from oven and cool completely. Dust with icing sugar before serving if desired.

Chicken with Peach Salsa

Ingredients:

1/4 cup mango chutney
1 tablespoon olive oil
8 chicken drumsticks
lime wedges and warmed tortillas, to serve

Peach salsa

4 small peaches, chopped
2 tablespoons mint leaves, finely shredded
2 green onions, thinly sliced diagonally
1 small red chilli, deseeded (see note), finely chopped
2 teaspoons olive oil
1/2 lemon, juiced

Method

Preheat oven to 220°C. Line a large baking tray with baking paper. Place a wire rack over tray (see note).
Combine chutney and oil in a small bowl. Brush over chicken. Season with salt and pepper. Place drumsticks on rack. Roast for 25 to 30 minutes or until golden.
Make peach salsa: Place peaches, mint, green onions, chilli, oil and 1 tablespoon lemon juice in a bowl. Season with salt and pepper. Toss to combine.
Serve chicken with peach salsa, lime wedges and tortillas.

Peach & Raspberry Smoothie

Ingredients:

1 cup fresh peach slices
1/2 cup fresh or frozen raspberries
350ml apple/peach fruit juice
1/2 cup vanilla yoghurt or 1 scoop vanilla ice-cream
4 ice cubes

Method:

Place all ingredients in a blender and blend until smooth. Pour into a tall glass and serve.
*All recipes are from www.taste.com.au