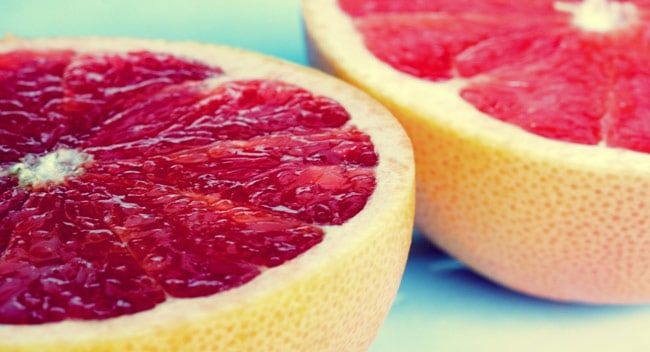 The grapefruit is truly an amazing food! With its high levels of vitamin C, this slightly sour fruit has many health benefits and can even be a powerful tool for dieting. Yes, that's right – this is a food that will actually help you lose weight! Its unique combination of enzymes, low sodium levels and high water content give grapefruits the ability to actively increase your body's metabolism, helping you to burn fat faster. The high vitamin C levels also make grapefruits, like oranges, an immune booster and antiseptic.
With its great taste, and added health benefits, why not add some grapefruit into your diet, especially while it's in season. We've put together some of our favourite recipes to get you started.
Salmon with Asparagus & Grapefruit


(serves 4)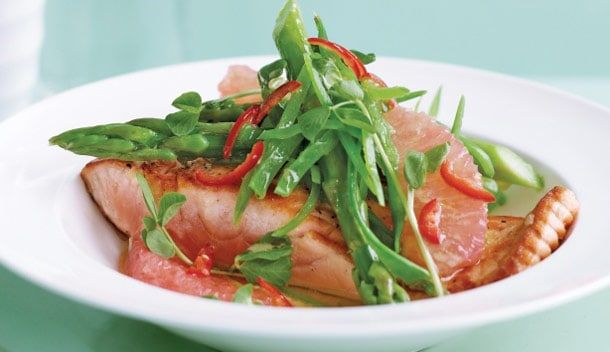 What you'll need:




•

2 bunches of asparagus (trimmed and halved)


•

150g snow peas (trimmed and shredded)


•

2 pink grapefruit (peeled and segmented, excess juice reserved)


•

50g snow pea sprouts (halved)


•

1 tbs Dijon mustard


•

3 tsp honey


•

2 long fresh chillies (deseeded and thinly sliced)


•

2 1/2 tbs olive oil


•

4 skinless salmon fillets

What to do:
1. Cook the asparagus and snow peas in a large saucepan of salted boiling water for 2 minutes or until bright green and tender crisp. Refresh under cold running water. Drain.
2. Combine the asparagus mixture, grapefruit segments and snow pea sprouts in a large bowl.
3. Whisk the mustard, honey, chilli, reserved grapefruit juice and 2 tablespoons of oil in a jug. Season with salt and pepper.
4. Heat the remaining oil in a non-stick frying pan. Season both sides of the salmon with salt and pepper. Cook for 2-3 minutes each side for medium or until cooked to your liking. Transfer to a plate and set aside for 5 minutes to rest.
5. Add half the dressing to the asparagus mixture. Divide salmon among serving bowls. Top with asparagus mixture. Drizzle over remaining dressing to serve.
Endive & Grapefruit Salad


(serves 4)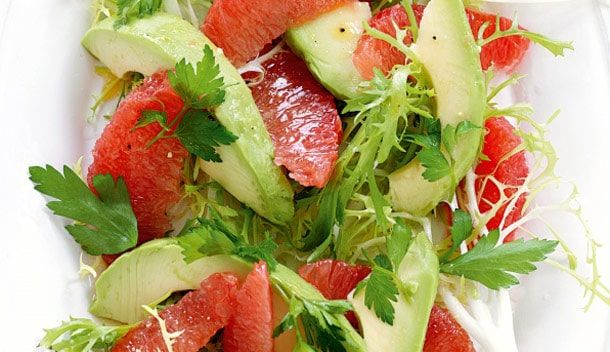 What you'll need:




•

1 large pink grapefruit


•

1 bunch baby endive (trimmed and cut into small sprigs)


•

1 large avocado (thinly sliced)


•

1/4 cup fresh flat-leaf parsley leaves


•

1 tbs olive oil


•

2 tsp white balsamic vinegar


•

1 tsp Dijon mustard

What to do:
1. Peel and segment grapefruit (see tip). Squeeze membrane over a bowl to reserve juice (you'll need 1 tablespoon). Discard membrane.
2. Place grapefruit segments, endive, avocado and parsley in a bowl. Place olive oil, vinegar, mustard and reserved grapefruit juice in a screw-top jar. Season with salt and pepper. Secure lid. Shake to combine. Pour over endive mixture. Gently toss to combine. Serve.
Grapefruit Brulee Tartlets


(serves 8)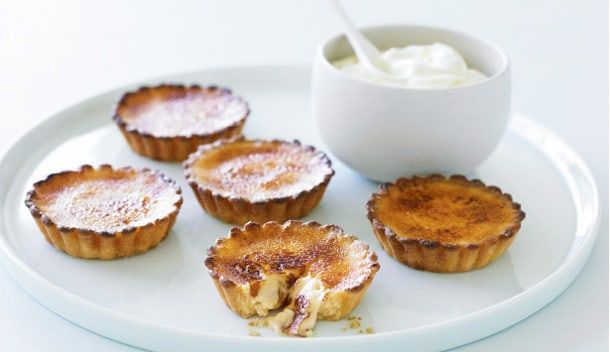 What you'll need:




•

1 tbs finely grated pink grapefruit rind


•

1/4 cup pink grapefruit juice


•

3 eggs (lightly whisked)


•

2/3 cup thin cream


•

1/3 cup caster sugar


•

2 tbs icing sugar mixture (to dust)
Pastry:


•

3/4 cup plain flour


•

1/3 cup almond meal


•

1/4 cup icing sugar mixture


•

100g chilled butter (in cubes)


•

1 egg yolk

What to do:
1. Whisk together the grapefruit rind and juice, eggs, cream and caster sugar in a medium bowl. Cover with plastic wrap and place in the fridge for 1 hour to develop the flavours.
2. Meanwhile, to make the shortcrust pastry, place the flour, almond meal, icing sugar and butter in the bowl of a food processor and process until mixture resembles fine breadcrumbs. Add the egg yolk and process until mixture just comes together. Turn the dough onto a lightly floured surface and gently knead until just smooth. Shape into a disc and cover with plastic wrap. Place in the fridge for 30 minutes to rest.
3. Preheat oven to 200°C. Roll one-eighth of the pastry out to a 3mm-thick disc. Line an 8cm (base measurement) fluted tart tin with removable base. Repeat with remaining pastry. Place on an oven tray in the fridge for 15 minutes to rest.
4. Cover pastry bases with baking paper and fill with pastry weights, rice or dried beans. Bake for 5-6 minutes or until set. Remove the paper and weights and bake for a further 5 minutes or until golden. Reduce oven temperature to 150°C.
5. Strain the grapefruit mixture though a fine sieve into a jug. Pour evenly among the pastry cases. Bake for 10-15 minutes or until just set. Remove from oven and set aside for 15 minutes to cool. Place in the fridge to chill.
6. Preheat a grill on high. Dust the tartlets with icing sugar. Place under the grill and cook for 1-2 minutes or until the top caramelises. (Alternatively, use a brulee gun to caramelise the tops.) Serve immediately.
Grapefruit Caprioska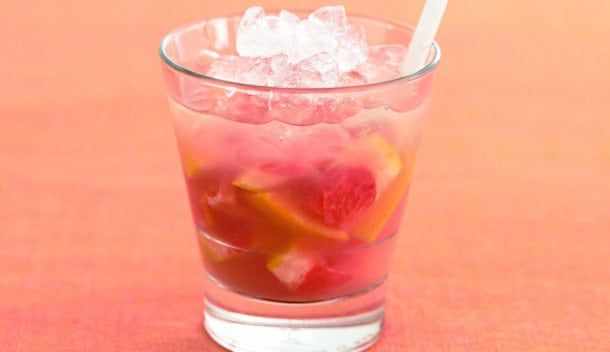 What you'll need:




•

1 pink grapefruit (halved)


•

3 tsp caster sugar


•

30ml vodka


•

Crushed ice, to serve

What to do:
1. Cut half the grapefruit into 2cm pieces, removing seeds. Squeeze juice from remaining grapefruit half into a jug (you will need 60ml / 1/4 cup juice).
2. Place the grapefruit pieces and sugar in a mortar and use a pestle to pound until crushed. Transfer to a serving glass, reserving the juice. Pour the reserved juice into the jug.
3. Fill the glass with crushed ice. Add the vodka to the jug and stir until well combined. Pour the vodka mixture over the ice and stir until combined. Serve.
*Recipes courtesy of taste.com.au