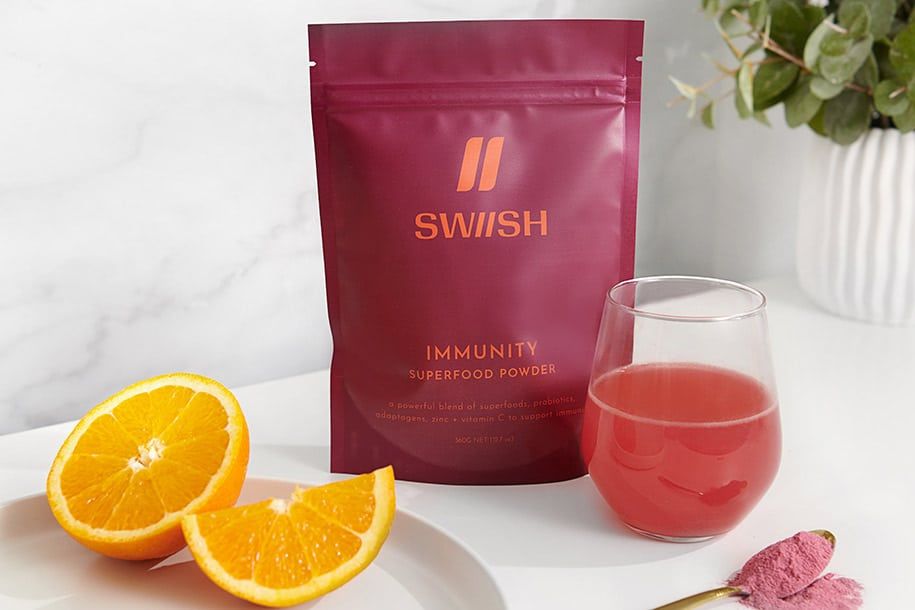 THE INSIDE SCOOP
Day to day life can wreak havoc on our immunity – stress, toxins, insufficient sleep, poor diet, adrenal fatigue and hormone disruptors are all common culprits. In addition, seasonal colds, viruses and the flu can also compromise our immunity. Up your immune support and protect yourself with IMMUNITY Superfood Powder.
Formulated with a powerful blend of antioxidants, vitamins, minerals, adaptogens, and probiotics – the best part is, it has a deliciously tangy blackcurrant taste.
Scientifically formulated with:
Vitamin C:
Acerola Cherry –  100 x the vitamin C content of oranges and lemons
Blackcurrant – Contains 4 x the amount of vitamin C than oranges
Adaptogens:
Ashwagandha Root – An immune modulator with antibacterial and anti-inflammatory properties
Astragalus Root – An adaptogen that helps activate immune defence cells
Probiotics:
Probiotic Blend – Strengthens gut health, where 70% of the immune system exists
Zinc:
The no. 1 immune mineral that supports against viruses and bacteria
Immune Boosting Extras:
Olive Leaf Extract – contains bioactive phytochemicals, in particular Oleuropein, which is a powerful polyphenol which has anti-inflammatory, antiviral and antimicrobial effects.
SWIISH Immunity Superfood Powder helps keep your immune system healthy all year round with consistent daily immune support.
WANT MORE? EXPLORE OUR ENTIRE WELLNESS RANGE HERE