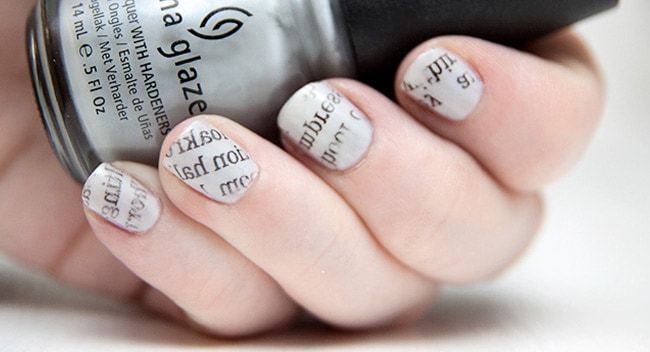 Spotted: straight off the runway at New York Fashion Week, designers, celebs and fashionistas have been rocking the latest manicuring trend on the block. Introducing newspaper nails – the look of elegant small print across a light shade of colour instilled on your fingernails to show off to the world.
To get the look is oh so easy. With time not always on our side, we love finding new ideas that give us a great look and are quick and easy to achieve.
Step 1

To achieve the best possible look as well as protecting the state of your natural nails, it is essential to use a base coat as your first step. One coat of the base colour will suffice and will help protect your nails from being damaged throughout the rest of the process. We used OPI Natural Nail Base Coat, $16.99.

Step 2

This second step will give your nails their first level of a newspaper look. You can choose any colour for your background. Pastels work really well, as does grey. The main thing is sticking to a light shade to ensure the words and letters come through clearly.  We love OPI's It's Totally Fort Worth It, $16.95.

Step 3

In order for the text of the newspaper to soak through and onto the nail, you will require some rubbing alcohol. You only need a thin coating of this across your nail as step 4 is performed immediately after step 3. We used Isocol Rubbing Alcohol, $9.99.

Step 4

After cutting a newspaper sheet into 10 small square pieces, press the paper onto each nail (one at a time) applying a small amount of pressure. Be sure to perform this directly after coating the nail with the rubbing alcohol.

Step 5

Complete your newspaper nail look with a matte coat finish. We used OPI Matte Top Coat, $19.95. Allow your nails to dry and there you have it!