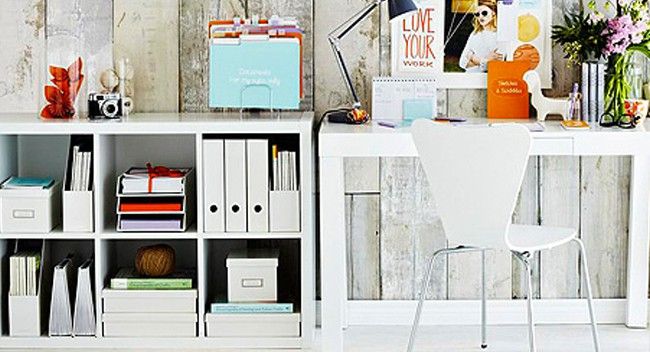 If you're unsure where January went (don't worry, us too), then it's possible that all of your well-intentioned "I'm totally going to get myself organised for 2015" proclamations may have somehow fallen by the wayside. Don't worry, we're here to get you back on track.
My friends often make fun of me for how organised I am (it's true, I'm addicted to spreadsheeting just about everything in Excel, and if I'm totally honest, one of my most treasured possessions is a label-maker). Call me a geek if you will, but one of the things I love most about a new year is getting organised. I don't just throw out my chock-full diary from the year before (ok, ok… I don't throw it out, I archive it); I also stock up on chic, shiny, pretty things that get me inspired and ready to be my best #girlboss self. 
There's something so refreshing about giving your workspace or your home or even just your diary a little added zhush, leaving behind the clutter of the year that's gone and feeling excited for what's to come.
So even though it's February, it's not too late to get yourself organised in the chicest way possible. Here are just a few (and trust me, I could have put hundreds in here!) of my favourite buys to control the chaos, stylishly of course, before it's really started. Happy organising!
 

BLACKBOARD – POTTERY BARN, $69.00




OSCAR DE LA RENTA PAPERWEIGHT – PETERS OF KENSINGTON, $78.00







L'OBJET LEOPARD PENCIL CUP – PETERS OF KENSINGTON, $63.00




ICON CLEAR TRAY – COUNTRY ROAD,  $44.95 

BE INSPIRED STATIONERY – FRENCH NAVY, $59.95

 

CRISTINA RE MUG – DAVID JONES, $14.95 

SOCIAL BUTTERFLY EMBROIDERED JOURNAL – SLOANE, $24.50

 




SLIM DIARY – DAVID JONES,  $15.95




SMYTHSON STATIONERY – NET-A-PORTER, $51.86

 

 

YSL LEATHER CARDHOLDER – NET-A-PORTER, $320.36




 

I'M GOLD BALLPEN – DAVID JONES, $34.95

 

WIRE BASKETS – DOWN TO THE WOODS, $18.17


 NEVER GIVE UP POSTER – ETSY, $23.84