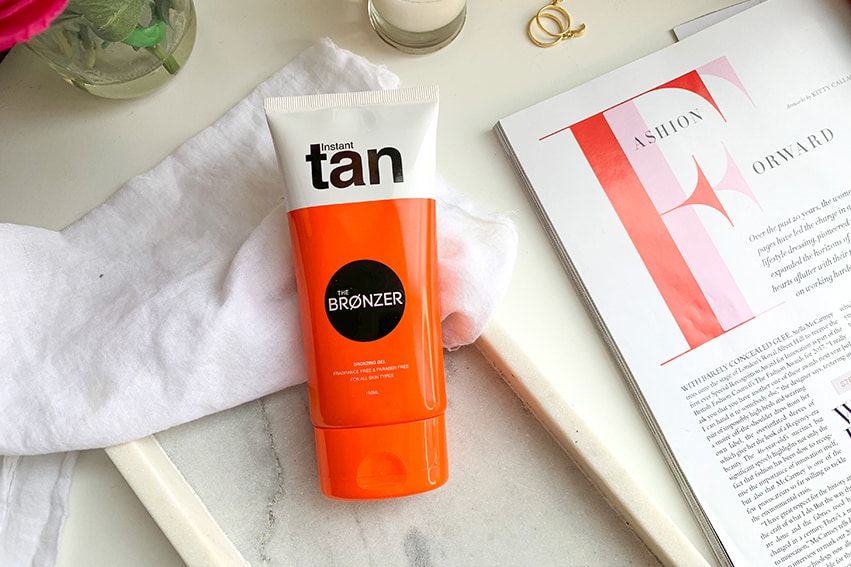 Sometimes you want a tan without the commitment. Just one night only. Then voila the next day, it's like it never happened. Is there such a thing?
Yes, the good news is that there is. Say hello and wrap your soon to be tanned limbs around The Bronzer Instant Tan. 
The Bronzer is an Australian self-tanning brand that has been around since 1999 and was one of the first to ever launch a wash-off instant tanning product. 
The Bronzer Instant Tan is a fast-absorbing gel formula that lasts for up to 24 hours and simply washes off with water when you no longer want it. Easy! 
This is so perfect for those times when you're time poor (practically all the time!), so it's a perfect quick fix for the legs or arms! 
As a bonus, the speed doesn't come at the expense of the ingredients. With no hidden nasties (parabens) and fragrance free, this works wonderfully for those with sensitive skin. 
Here's a tanning tip we picked up on set from the professionals – we mixed our daily moisturiser in with the tanning gel and apply it as a combo. We highly recommend doing this if you have naturally dry skin, and the bonus of mixing your daily moisturiser together with Instant Tan gel is that it will help you spread out the tan. Alternatively, you can apply moisturiser beforehand – just ensure your skin is 110% dry before applying the tanning gel. 
The gel formula is brown so that way it's easy to apply so you can see exactly where you're going and where you've been. You can thank us later for no more hidden white patches! If you're seeking that extra iridescent sheen, the Instant Tan is also available in 'shimmer' – and the best thing is, the more you apply the darker you get.
Head here to get your hands on this summer essential.