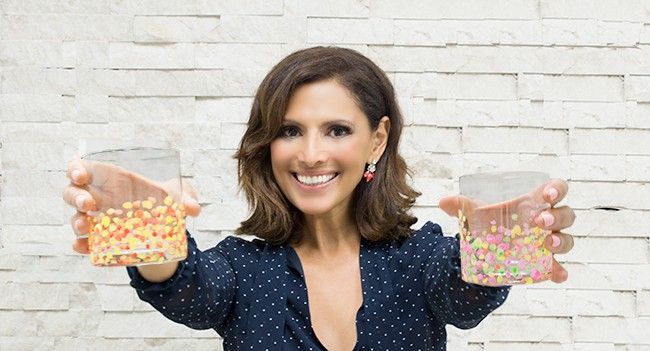 A little colour in the kitchen is a nice change from plain and simple glassware. I love a DIY project and when I stumbled upon these confetti glasses, I knew I found my next project.
They are cheap, easy to make and the best part is that you can customise them to your favourite colours to create one of a kind pieces.
What You'll Need:
Glasses: We found the perfect glasses at Target and they're super cheap. A pack of 4 for $15.00 – bargain!
Multi-surface paint or enamel acrylic paint: Martha Stewart makes a great multi-surface paint in a gorgeous range of colours. Buy them from Scrapbook Superstore for $2.99.
What To Do:

1. Clean the glasses thoroughly and ensure they are dry and ready to paint.

2. Put a dollop of each of the paint colours on the paper plate.

3. Turn your glass over so the bottom of the glass is facing up. Using a cotton bud, dip it into your desired paint colour and make dots on the glass.

swiish tip: you can vary the sizes of the dots on the glass by changing how firmly you press.

4. Add more dots using the other colours but don't overlap any of the dots. Once you have put several dots of each colour, set your glass aside on the paper towel for 30 minutes to dry.

5. After the first layer has dried you can add more dots and overlap. Then allow them to dry for another 30 minutes.

6. Keep adding layers until you are happy with how the glasses look. Once complete, put the glasses in a safe spot to let them cure. Curing time is dependent on the paint you use. Martha Stewart's paint suggests a curing time of 21 days before it becomes dishwasher safe.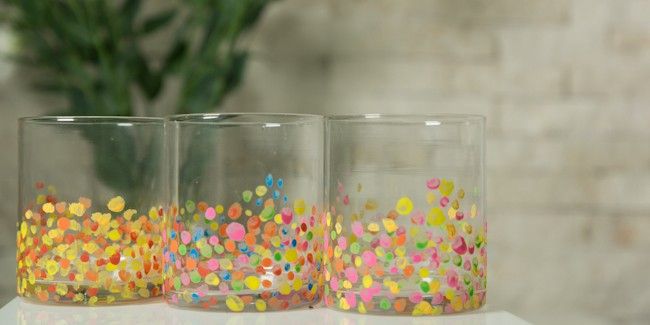 *DIY adapted from allparenting.com