It wouldn't be a cleanse if our Deliciously Nourishing Chicken Soup wasn't involved, so it's a good thing this one doesn't taste anything like a detox. Delicious right down to the last spoonful, you're gonna love it.
DELICIOUSLY NOURISHING CHICKEN SOUP
Dairy-free / Refined Sugar-free
Serves 6
Ingredients
2 tbsp olive oil
1 large brown onion, diced
1 leek, finely sliced (white part only)
2 cups celery, chopped
4 cloves garlic, crushed
3 tbsp grated fresh ginger
3 cups carrots, diced
600g skinless chicken thighs, cut each one into three pieces
2 litres chicken stock
1/2 tsp crushed red chillis or any kind of red chilli paste
1/4 tsp turmeric
1 tbsp apple cider vinegar
3 cups broccoli florets
1 cup frozen peas
1/2 cup chopped parsley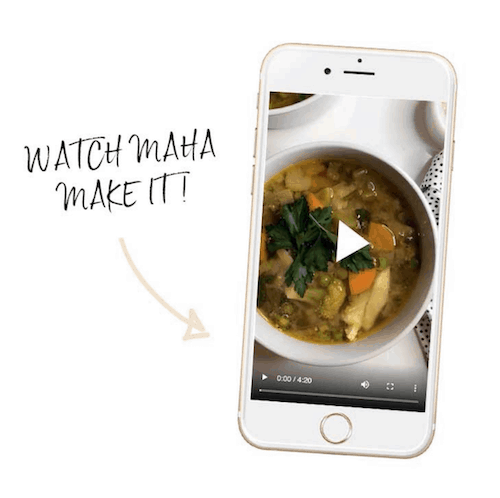 Method
Heat the olive oil in a large saucepan over medium heat. Add the onion, leek, garlic, ginger and celery. Stir until softened (around 5 – 8 mins). Add the carrots, chicken thighs, chicken stock, apple cider vinegar, turmeric, and crushed chillis.
Bring to a boil and then lower the heat. Leave to simmer for about 15 mins and then check on the chicken thighs, to see if they have cooked. You may need to pop back in for a further five mins.
Once the chicken thighs have cooked then remove them and set aside to cool.
Add the peas, parsley and broccoli to the saucepan. Keep cooking until the broccoli is tender.
In the meantime shred the chicken thighs and once the broccoli has softened, add the chicken back into the pot. Then just serve and enjoy!
WANT MORE? CHECK OUT OUR RECIPES SECTION AND OUR BOOKS FOR MORE NUTRITIOUS TASTY MEALS.