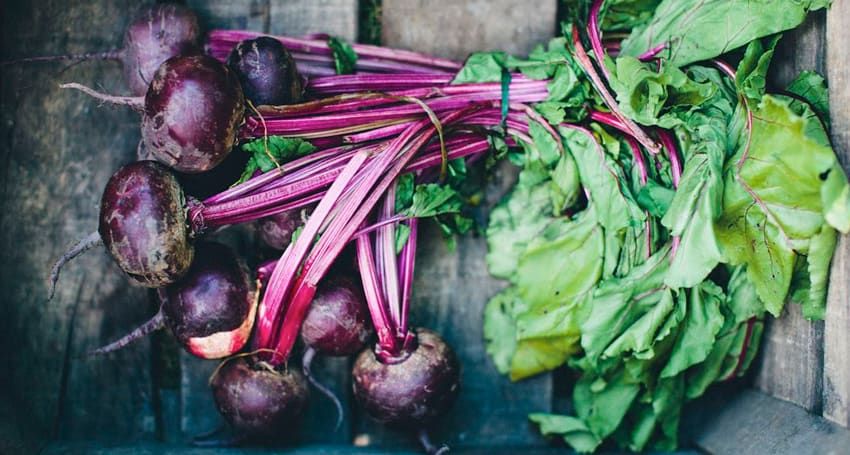 Here in the SWIISH office, it's not unlikely that you'll a spot beetroot in our salads, sandwiches or even in our smoothies!  Juicy, sweet, refreshing and delicious.  What's not to love?
Taste isn't the only thing that keeps these purple wonder-veggies on our radar though (although it is a major plus!) Beetroots are packed full of some pretty amazing health benefits too.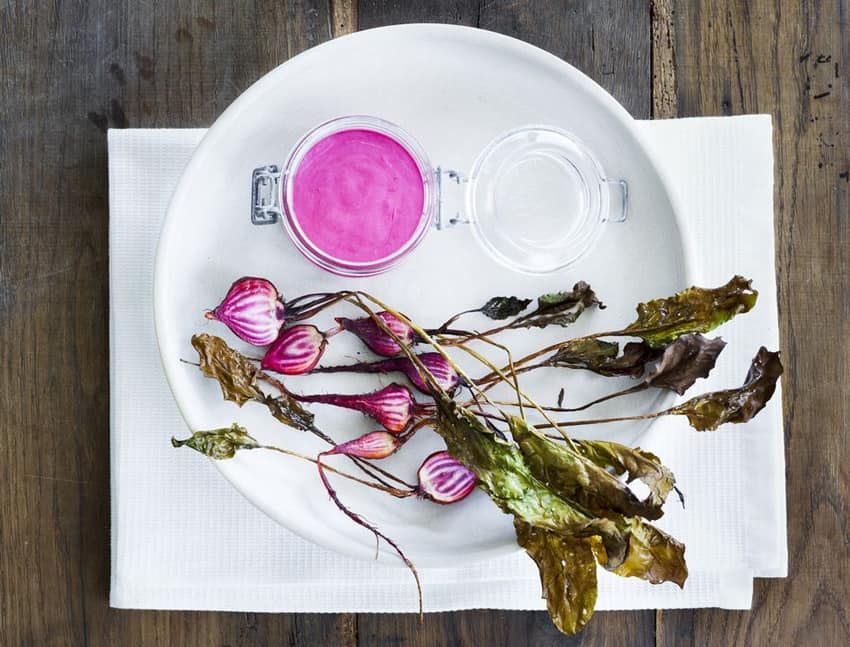 Beetroots are super rich in potassium, magnesium and iron, which are all essential nutrients for a healthy diet.   They're also high in immune-boosting vitamin C, fibre, and essential minerals like potassium (essential for healthy nerve and muscle function) and manganese (which is good for your bones, liver, kidneys, and pancreas).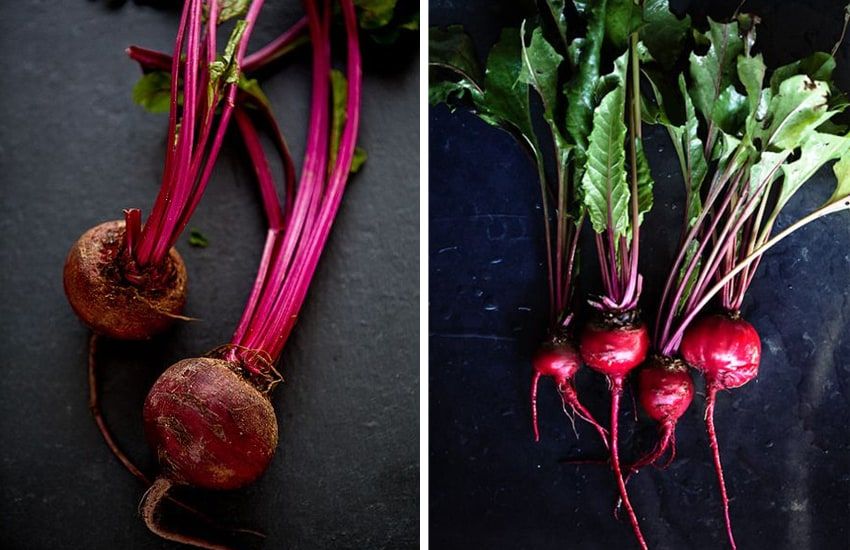 Not only that, but beetroots can also help to reduce blood pressure and lower cholesterol.  They are reported to lower the risk of heart attacks and strokes.  Putting it simply, beetroots are good for the heart, so that is definitely a tick in our book!
Beetroots taste fantastic in a salad or sandwich but if you really want to get creative, try giving one of these a go…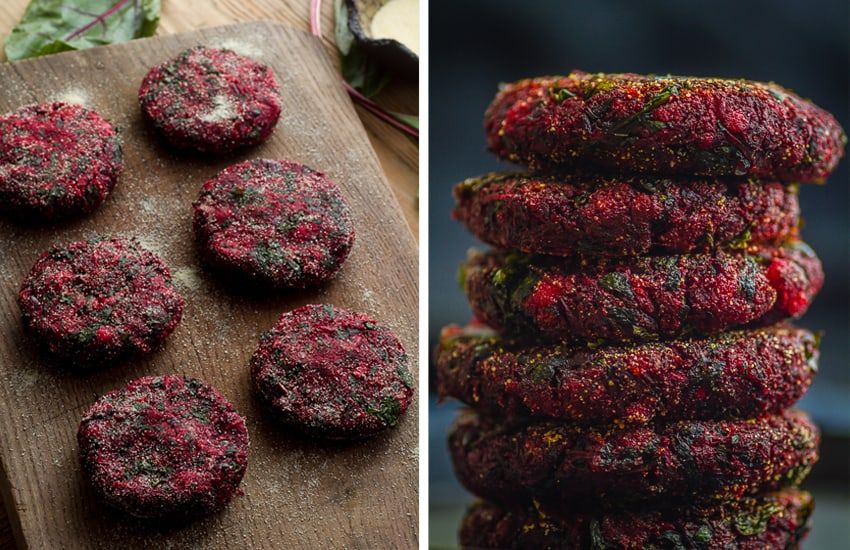 BEETROOT BURGERS
INGREDIENTS
1/2 cup semolina
3 beets, grated
3 carrots, grated
3 leaves of kale, chopped finely
1/2 onion, chopped
2 garlic cloves, crushed
oil, for sautéing and shallow frying
salt and pepper
2 green chilies, chopped finely (optional but highly recommended)
METHOD
Roast the semolina in heavy bottom pan, on medium heat, until it turns light brown and a nice aroma comes out. Make sure it does not get burnt. Transfer it to a plate and let it cool completely. I usually do this ahead of time and store it in an air tight container.

Boil one cup water in a heavy bottom pan. Reduce the heat to the lowest. Keep 2 tablespoons of the roasted, cooled semolina aside in a small bowl. Slowly add the rest of semolina, stirring all throughout so as not to form any lumps. Leave it at a simmer for a couple of minutes. Switch the heat off and allow it cool completely.

Squeeze the grated beets to drain any extra liquid. In a pan, heat one spoon of oil, saute onion, garlic and green chilies. Add the grated carrots, and then the grated beets. Add the chopped kale, turn off heat and keep stirring for a minute or two.  Remove from pan. Add the cooked semolina, salt and pepper. Allow to cool.

Form into six burger shapes and sprinkle them all over with the semolina kept aside. This will prevent the burger from sticking to the pan while frying. Also, this will make the crust crunchy and tasty.

In a little hot oil, shallow fry the burgers for about 5-10 minutes on either side. Remove the pan from the heat and leave it untouched for some time which will help the burgers to hold the shape intact.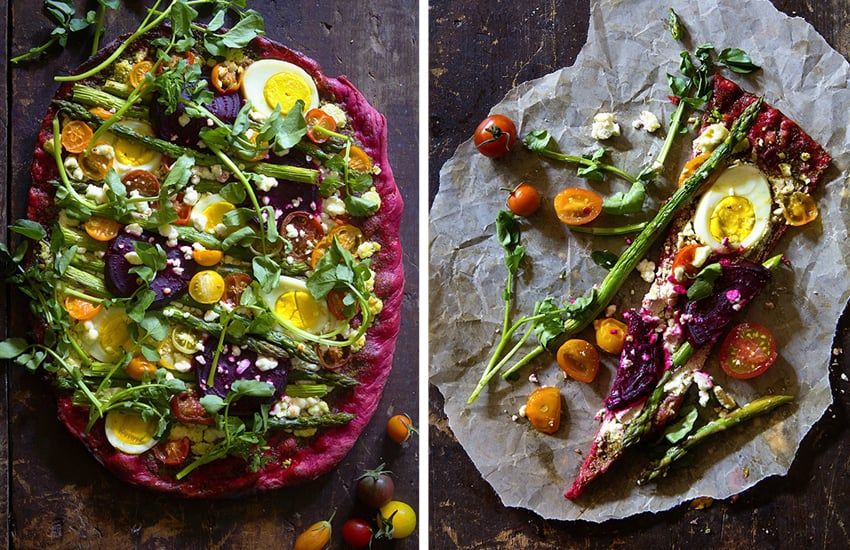 BEETROOT POWER PIZZA
INGREDIENTS
1 and ¼ cup beets (3 beets wrapped in foil and roasted at about 200 degrees C for 45 minutes, then pureed in a blender)
¾ cup quinoa flour
½ cup hazelnut meal
2 teaspoons baking powder
½ teaspoon salt
2 eggs
1 tablespoon coconut oil
toppings of your choice, including tomato paste or hummus, goats cheese
METHOD
Preheat oven to 185 degrees C

Mix all the crust ingredients together – the mix will be wet.

Using a spoon, smooth out beet crust to about 1cm thick onto a tray lined with baking paper

Bake for 25 minutes

Take out and top with tomato paste or hummus, cheese and any other toppings of your choice (I like goats cheese, asparagus and cherry tomatoes on mine!)

Bake for another 10-15 minutes until cheese is melted.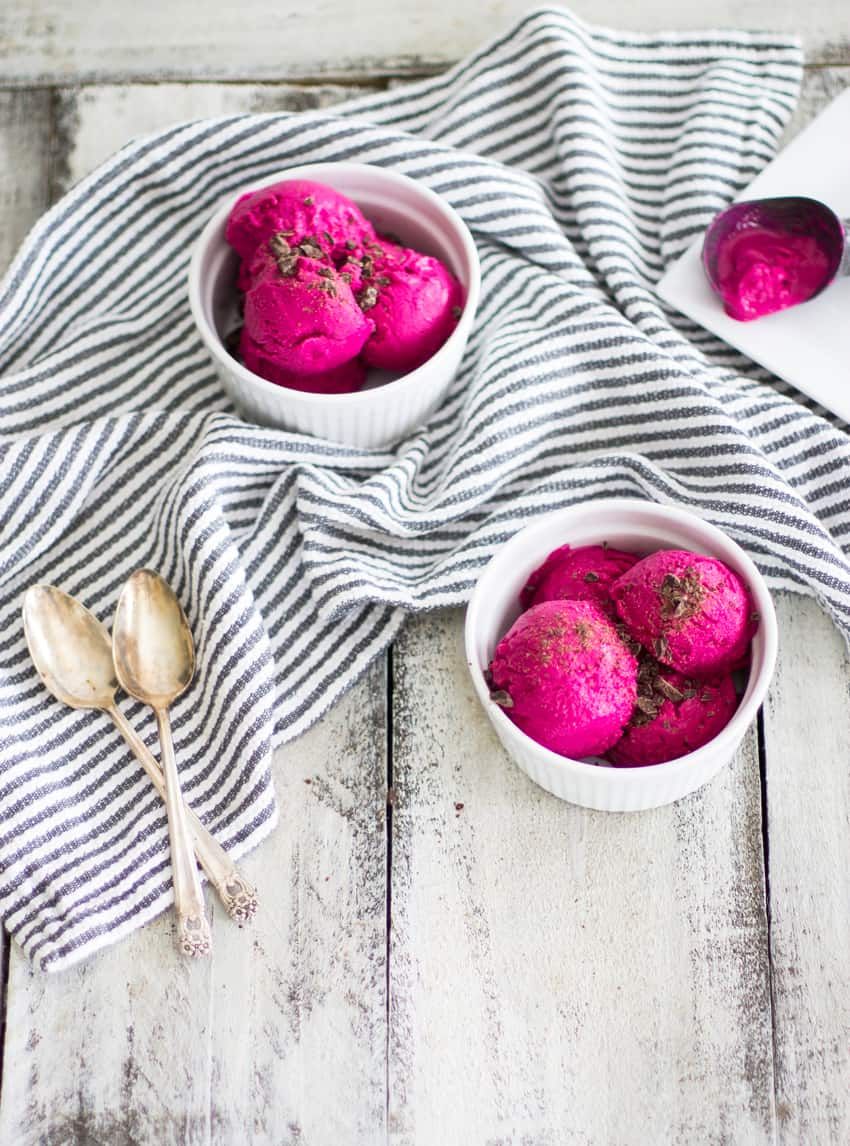 HONEY & BEETROOT FROZEN YOGHURT
INGREDIENTS
3 Cups of Greek Yogurt
5 Beets
1/2 Cup of Honey
1 Tsp. Olive Oil
Sprinkle of Salt
METHOD
Preheat oven to about 200 degrees C.

Wrap your beets (skin and all) in aluminum foil, drizzle with a tsp. of olive oil and sprinkle with salt. 

Roast for 45 minutes until the beets are fork tender.  Let cool slightly and you will be able to remove peel with ease.

Puree your beets until smooth.  Chill completely, at least two hours.

After your puree is smooth, combine your yogurt, beet puree, and honey into a bowl and mix until well combined.

Scoop the mixture into your desired container and freeze.