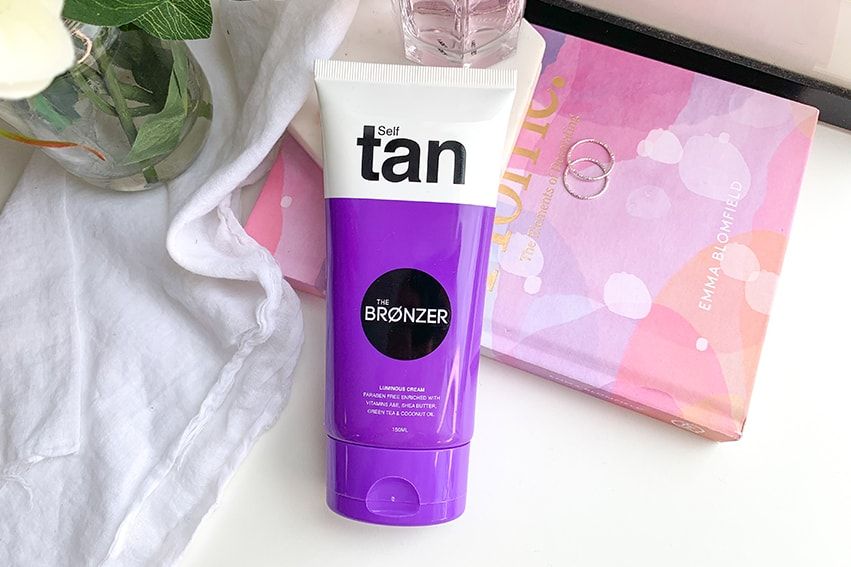 Choosing a self-tan can be a complicated decision given that there are soooo many to choose from. Here at SWIISH HQ, we take our self-tanning seriously, because – well, because everything looks better with a tan!  
With so many to choose from, we chatted with our makeup artist friends in the business to get their top pick. 
The winner – The Bronzer Self Tan.
The Bronzer Self Tan is a  luminous cream which is enriched with Vitamins A and E. It's also loaded with shea butter, coconut oil and green tea extract. 
Before we even get onto the golden glow the tan gives you,  can we please take a minute to talk about the luscious smell of this tan?! It smells of coconuts in the most tropically relaxing way. Like an instant holiday (thank us later)
The Bronzer Self Tan will leave you with a gorgeous glow for up to a week and that's just with one application. If you're chasing a really deep tan, then the more you apply – the deeper the colour you will get.
The creamy texture makes it really easy to use – apply it like you would apply your daily moisturiser. Because the tanning cream is golden brown, it's easy to see where you're putting it, which helps you not miss any tricky bits. No one wants an uneven tan!
For many of us with sensitive skin, applying a tan can almost feel like a trade-off. Apply the tan, but get a skin reaction. Or avoid a skin reaction but be forced to skip the tan.  Well no more. The fabulous thing about The Bronzer Self Tan is that it's paraben and fragrance free and it's especially suited to sensitive skin. Winner.
Here at SWIISH, we feel such pride when Aussie products go global, and The Bronzer brand is sold and loved worldwide. It's proudly Australian made and owned. 
If you plan on applying The Bronzer Self Tan to your face, here are some important tips to follow too:
1. Put Vaseline on your eyebrows to stop it staining them 
2. Blend the tanner right into the hairline and underneath the jaw line, just like foundation. If you've got lighter hair, we strongly suggest wiping your hair afterwards to ensure it doesn't stain. 
And always remember: if you're thinking you don't have the time or energy to DIY, but your heart yearns for a fake tan, remember that everything looks better with a tan!
Take a peak here to learn more.