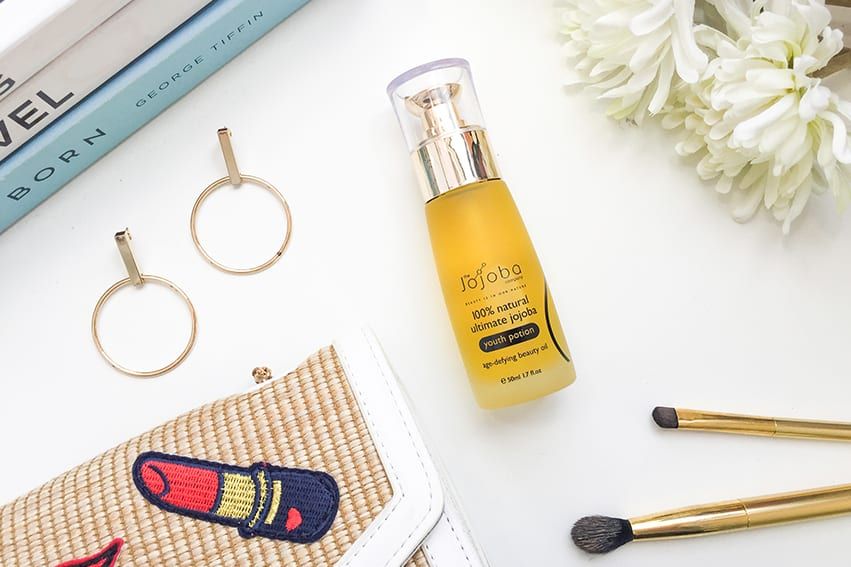 You're probably all familiar with the classic Jojoba line from one of Australia's funniest TV shows, Kath and Kim right? ("We've got heaps of jojoba left over from October.") Comedic gold aside, there is a great reason why we can't get enough of jojoba – it actually mimics the skin's natural oil so it's able to penetrate deep into the skin where it matters. 

How? Well, jojoba is a golden liquid wax similar to the protective wax produced by our skin to keep it smooth, supple and moisturised and for a crazy fact, jojoba is the only plant in the world known to produce this unique golden liquid wax!! (Most other plants produce oil.)
Similarly to how our bodies need vitamins for optimal health, so does our skin, which is why The Jojoba Company's Ultimate Jojoba Youth Potion is one of our favourite beauty must-haves. It acts as a multi-vitamin for our skin. We always joke that using one 50mL bottle is like ageing backwards 10 years because the 100% natural product is rich in CoQ10, an enzyme that is age defying. Yep, it's that good. 
It's naturally rich in pretty much every vitamin of the alphabet (A, B, C, D, E and F) and all the big name essential fatty acids like 3, 6 and 9. If you have no idea what the letters or the numbers mean, just know that they're great for your skin and that the Youth Potion works deep in the skin, smoothing the appearance of wrinkles and fine lines. 

Dispense 1-2 pumps onto fingertips and gently massage onto a cleansed face, neck and décolletage. You can use this on top of natural serums for optimal age-defying results. We often use ours under our foundation for an added dewy glow.