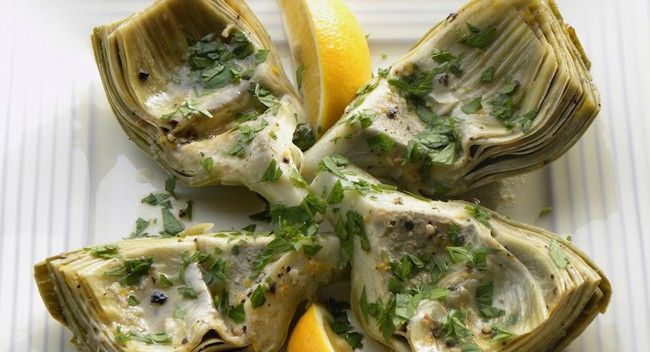 Artichokes usually fly under the radar, they're taken for granted when really they possess so much goodness – low in calories, sodium and with no cholesterol, artichokes are a super food because they're high in fibre, vitamins and minerals.
It's so easy to keep a jar of marinated artichokes handy in your pantry, and these recipes will be a winner with the family, or whenever you're entertaining guests.
Cannellini And Artichoke Dip


(makes 3 cups)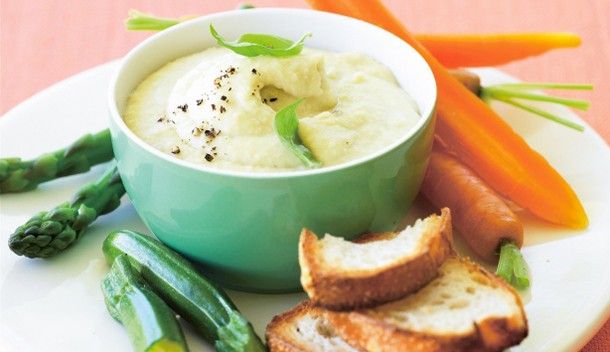 You will need:




•

1 1/2 cups (375ml) extra virgin olive oil


•

1 1/2 cups basil leaves, plus extra to garnish


•

1 garlic clove, halved


•

2 x 400g cans cannellini beans, rinsed, drained


•

'1 cup chopped marinated artichoke hearts (about 3 whole)


•

'1/4 cup (60ml) lemon juice


•

Crudites (such as blanched asparagus, baby zucchini and baby (Dutch) carrots) and toasted baguette slices, to serve

What to do:
1. Place the olive oil in a saucepan over medium heat for 5 minutes. When hot, add the basil leaves (stand back as the oil may splatter) and cook for a further 30 seconds. Remove from the heat and cool slightly. Pour mixture into a food processor and whiz until basil is finely chopped. Pass through a fine strainer, discarding the leaves.
2. 'Place garlic, beans, chopped artichoke and lemon juice in the (cleaned) food processor. With the motor running, slowly add oil, then season to taste.
3. 'Serve topped with basil, accompanied by crudites and toasted baguette for dipping.
Artichoke Arancini


(makes 25)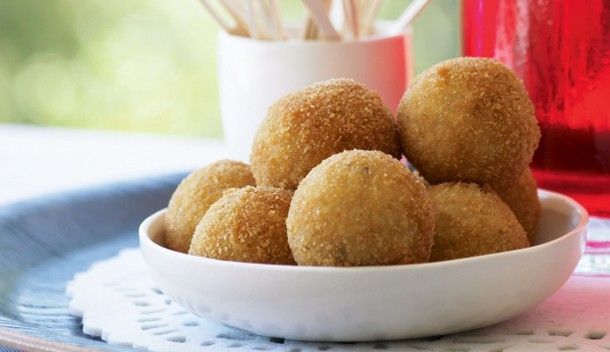 You will need:




•

900ml chicken stock


•

2-3 tbs olive oil


•

1 onion, finely chopped


•

340g jar marinated artichokes, drained, chopped


•

300g Carnaroli rice (from gourmet food shops, or otherwise use arborio rice)


•

1/4 cup (60ml) dry white wine


•

30g unsalted butter, chopped


•

1/2 cup (40g) finely grated parmesan


•

100g mozzarella, cut into small cubes


•

1 tbs plain flour


•

1 egg, lightly beaten


•

2 cups (200g) dried breadcrumbs


•

Vegetable oil, to deep-fry

What to do:
1. Bring stock to the boil over high heat, then keep at a gentle simmer. Heat oil in a large, heavy-based pan over medium-low heat. Add onion and cook for 3-4 minutes until soft. Add artichokes and rice and stir for 1-2 minutes to coat grains. Add wine and stir for 3-4 minutes until almost evaporated. Add stock, a ladleful at a time, allowing each to be absorbed before adding the next. Continue for 15-20 minutes, stirring, until rice is cooked but still firm to the bite. Stir in butter and parmesan, then season to taste. Spread risotto in a shallow dish to cool, then cover and refrigerate for 1 hour or overnight.
2. Line a tray with baking paper. Place 1 tablespoon of risotto in the palm of your hand and flatten slightly. Place a piece of mozzarella in the centre, then roll up to enclose and form a smooth ball. Place on the tray. Repeat with remaining risotto, then chill balls for 10 minutes. Place flour, egg and crumbs in separate bowls. Dust risotto balls in flour, then dip in egg, roll in crumbs and return to tray.
3. Half-fill a deep-fryer or heavy-based saucepan with vegetable oil and heat to 190°C. (If you don't have a deep-fryer thermometer, test a cube of bread – it will turn golden in 30 seconds when oil is hot enough.) In batches, fry arancini, turning, for 8-10 minutes until golden. Drain on paper towel. Serve immediately.
Artichoke and Bean Salad


(serves 4)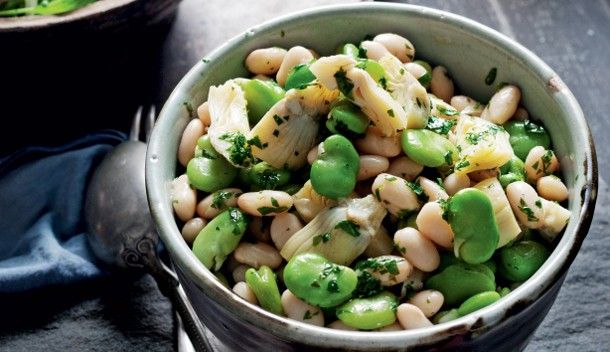 You will need:




•

400g can cannellini beans


•

1 cup broad beans, peeled, thawed


•

4 marinated artichoke hearts, quartered


•

2 tbs extra virgin olive oil


•

1 tbs lemon juice


•

1 tbs white balsamic vinegar


•

1 tbs fresh continental parsley, chopped

What to do:
1. Drain and rinse a 400g can cannellini beans. Combine with 1 cup thawed, peeled broad beans and 4 quartered marinated artichoke hearts in a bowl.
2. Whisk 2 tbs extra virgin olive oil, 1 tbs lemon juice, 1 tbs white balsamic vinegar and 1 tbs chopped fresh continental parsley in a small bowl. Pour over the bean mixture.
3. Season and toss gently to combine
*Recipes are courtesy of taste.com.au