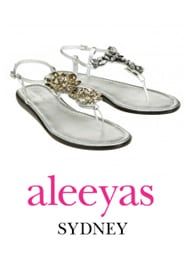 Obsessed with these gorgeous sandals. Beautifully handcrafted with mix & match jewelled uppers. www.aleeyas.com
What if I told you that you could have a pair of the most gorgeous jewelled sandals ever? You'd be excited, right? Well,  what if I then said that with just one quick change of the stunning Swarovski crystal jewelled uppers, you can have a whole different look with the same pair of shoes? It's true! Aleeyas sandals are simply gorgeous and are two pairs of shoes for the price of one!
The stunning designs mean that you will always be putting your chicest foot forward. And if you're a serial overpacker for holidays (hey, we've all been there), Aleeyas sandals will save you space in your suitcase and take you from beach to bar in one fashionable swoop.
The sandals are made from handcrafted leather and are incredibly high quality. Aleeyas sandals are available in black patent, silver or champagne, and with the added bonus of being able to change your look to suit your mood, you will fall in love with them. 
Oh and if that's not reason enough to nab yourself a pair, Aleeyas are having a sale right now, and the sandals are priced at  just $180 plus delivery is free! We love it!