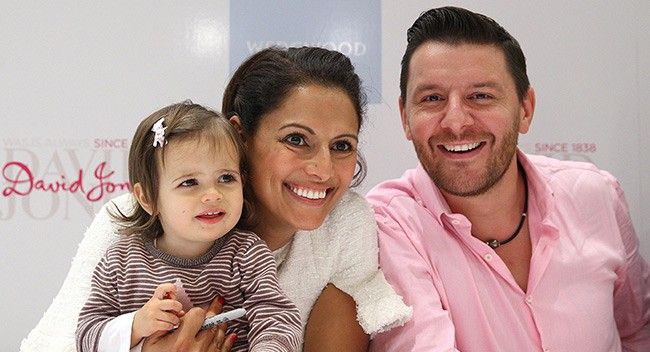 I had a really wonderful Mother's Day, all the more special because last Mother's Day was so tough. To celebrate this year, I attended a Mother's Day High Tea in Sydney, hosted by David Jones, in partnership with the National Breast Cancer Foundation (NBCF).
Hosted by the ever handsome and ever cheeky Manu Feildel, the room was filled with families celebrating as we all said thanks to the women who we grumble about sometimes but really, they've done so much for us – our mums.
So I can hear you asking … what is Manu really like? He's cheekier than he is on TV and yes the French accent makes you melt. The funniest thing is seeing the effect he has on a room full of women. Everyone was lining up to get a photo and a kiss with him … well two kisses to be exact because Manu insists on one kiss on each cheek, as that's the French way. Let's face it what woman is going to say no to that? My mum was even giggling like a schoolgirl and kept pestering me to get her picture taken with Manu. It was sweet, but also a bit embarrassing!
Aside from getting up close with Manu, the high tea is important because it raises much-needed funds and awareness for breast cancer. As I often say, early detection is everything and the NBCF, thanks to the support of the Australian community, have delivered advances in understanding risk, early detection, treatment and care, which as we all know, can transform the lives of women with breast cancer.
David Jones have been partnering with the NBCF since its inception in 1994. Amazing! I felt very proud and lucky to be there, meeting other mums and families whose lives have been touched by cancer.
Here are a few snaps from the event, as you can see, Annabelle had a ball too!