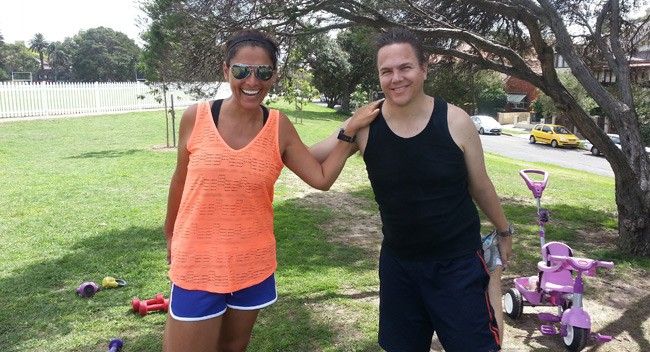 I'm back at work after what was a gruelling 2012. I'm feeling better than I have in what feels like forever. But now it's time to get my fitness back.
Over the next few months, I'll be bringing you updates on some of the exercise workouts I'm doing, as well as the diet changes I am making and new recipes I'm trying.
One of the first things that I decided to do was to kick off the year by starting personal training, with Marcus. Enter Ashley from Flite Fitness. He works us hard! What I love about Ashley is that he appreciates the fact that I'm recovering from cancer and surgery but still pushes me in a way that's safe and builds my strength. He mixes up the workouts too, which I love. That way, my muscles never get used to anything and I never get bored. I always look forward to our next workout session, not knowing what's coming up!
Training with Marcus has been excellent. We keep each other motivated and call each other out if we aren't working hard. I know that we've all heard this a thousand times before, but finding a workout buddy does definitely significantly increase the likelihood that you'll stick to your exercise regime. I can't recommend it enough.
My overall goal is to get back to the healthy body I had before cancer. That feeling of "yeah! I can climb mountains!" – eating well, sleeping well, feeling strong. That feeling is worth a million bucks.
I'll keep you posted on how we go, and keep your eyes out for all the recipes and health tips.