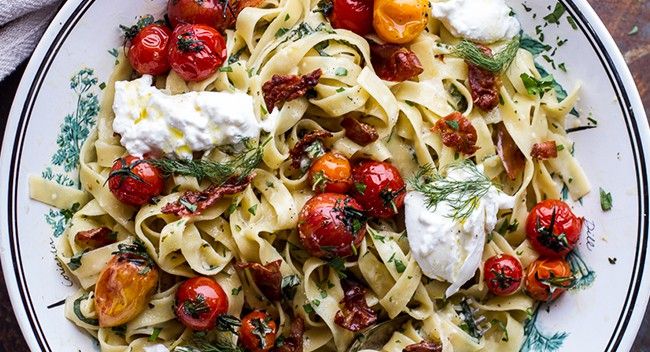 I am quite sure I'm Italian. I must be. I go weak at the knees at the mere mention of pasta. Minumum twice per week, I have to have it, otherwise what's the point of eating?! I keep it simple and delicious using as many fresh ingredients a possible. It's a guaranteed minimum-effort, maximum-yumminess kind of dinner – perfect for when you are as busy as I am!
Here are some easy but crazy delicious, crazy quick pasta dishes that you can cook in under 15 minutes.
Fig and Walnut Spaghetti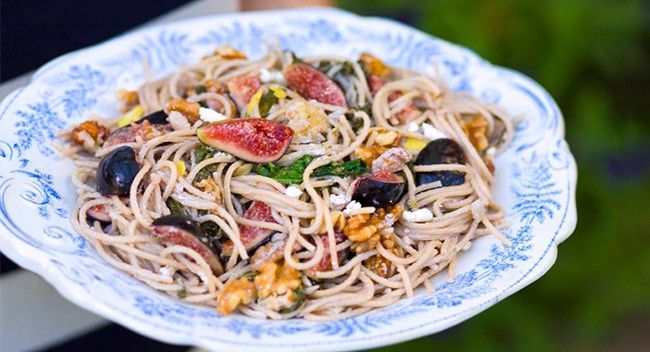 What You'll Need
What to do

1 small lemon, juice and zest

 100g roasted walnut halves

5 fresh ripe figs, cut in quarters

 

Boil the spaghetti until al dente.
Add olive oil to a large frying pan on medium heat. Add garlic and and fry for 30 seconds before adding 2/3 of the wine and the lemon juice. Stir around, add spinach and goat cheese while stirring (save a small piece of the goat cheese for later).
 Let it simmer for three minutes before adding the spaghetti and the roasted walnuts. Stir for 30 seconds, taste and add salt if needed.
Add the figs and gently fold them into the pasta. Serve on a big plate or in a bowl with the rest of the goat cheese and lemon peel sprinkled over it.

*Recipe from Green Kitchen Stories
 One-Pot Caprese Pasta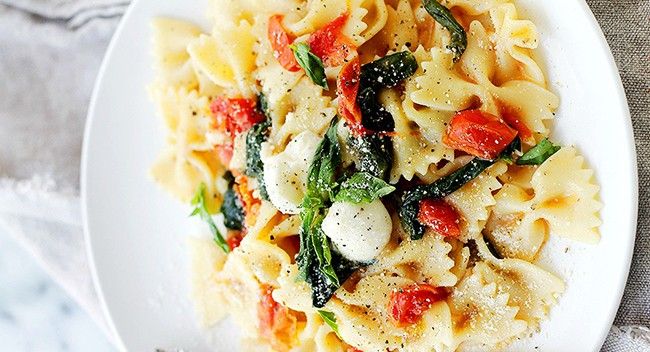 What You'll Need
What to do

1 box of farafalle (bow tie) pasta

2 cup cherry tomatoes, halved

1/2 cup basil leaves, packed

Salt and fresh ground pepper, to taste

1-1/2 cups part skim shredded mozzarella cheese

Balls of fresh mozzarella cheese and fresh basil leaves for garnish (optional)

 

In a stockpot, combine water, olive oil, pasta, halved tomatoes, basil leaves, garlic, salt and pepper.
Cook over high heat and bring to a boil.
Reduce heat to a simmer and continue to cook until pasta is thoroughly cooked and water reduced. Stir occasionally.
Remove from heat and let stand for 2 minutes.
Stir in shredded mozzarella cheese until thoroughly combined.
Taste for salt and pepper; adjust accordingly.
Garnish with balls of fresh mozzarella cheese and fresh basil leaves.
Roasted Cherry Tomato 'Carbonara'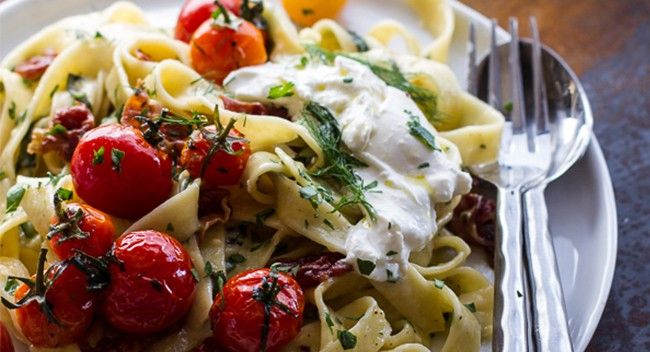 What You'll Need
What to do

4 cups heirloom cherry tomatoes

2 tablespoons olive oil, plus more for serving

1/2 cup fresh herbs (I used basil, oregano and dill)

4 cloves garlic, minced or grated, divided

salt and pepper, to taste

400g of your favorite long cut pasta (I used tagliatelle)

110g prosciutto, thinly sliced (I'll substitue with bacon)

3/4 cup whole milk or heavy cream

3/4 cup parmesan cheese, freshly grated

225g, burrata cheese, torn

pinch of crushed red pepper flakes

1/4 cup fresh basil or parsley, chopped

Preheat the oven to 200°C.
Add the cherry tomatoes, olive oil, 2 tablespoons fresh chopped herbs, 2 cloves minced garlic and a generous sprinkle of salt and pepper to a baking dish. Toss well, making sure the tomatoes are coated in olive oil, herbs, garlic, salt and pepper. Roast for 10-15 minutes or until the tomatoes collapse.
Meanwhile bring a large pot of salted water to a boil. Boil the pasta until al dente.
While the pasta is boiling, place a large skillet over medium heat. Add a drizzle of olive oil and once hot add the prosciutto. Let the prosciutto get nice and crispy, about 2-3 minutes per side. Now toss in the remaining 2 cloves of minced garlic and saute for about 1 minute to soften. Add the drained pasta to the skillet and give it a good toss, cook for about 2 minutes.
Beat together the eggs, cream and parmesan in glass measuring cup. Remove the pasta from the heat and pour the egg/cheese mixture into the pasta, tossing quickly (to ensure the eggs do not scramble) until the eggs thicken and create a sauce.
Add the tomatoes and all the juices from the tomato dish and gently toss to combine with the pasta. Season the carbonara with lots of freshly ground black pepper and salt to taste.
Divide the pasta among plates and top with freshly torn burrata cheese and fresh herbs.