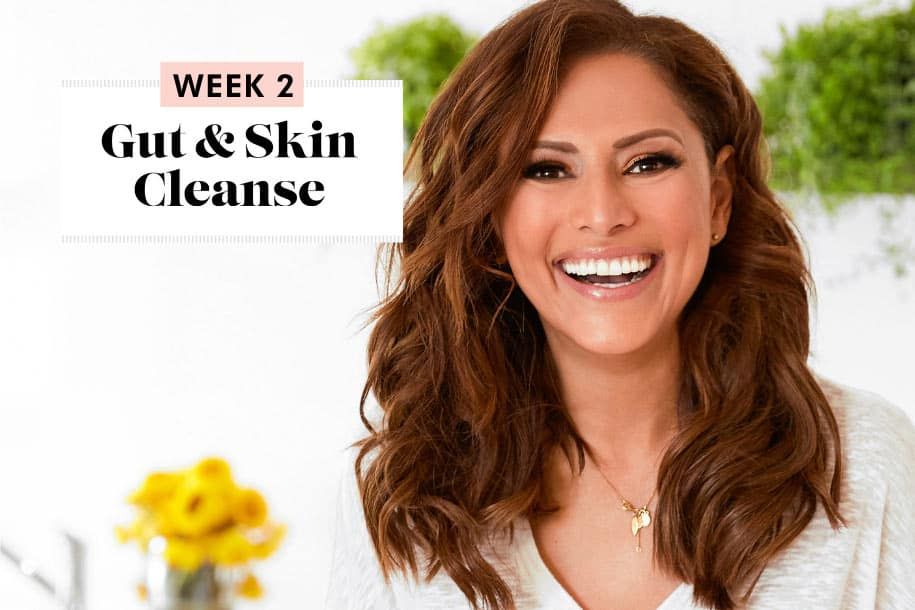 Welcome to week 2 of the 21-Day Gut & Skin Cleanse – how's everyone feeling? We're more energised, and feel like our body is high-fiving us every day for this much needed reset.
JUST JOINING US? HERE'S THE LOW-DOWN:
Every day this week, we'll be following our cleanse regime of having GLOW Marine Hydrolysed Collagen Powder and FIBRE Cleansing Powder twice daily in a drink of choice.
Still need to grab your powders? We've got you covered. Save big and feel amazing with the Gut & Skin Cleanse Pack.
Feel free to eat what you'd like throughout the cleanse – but remember to follow the guidelines of whole foods, proteins, lots of fresh vegetables and of course good quality carbs for maximum benefit. If you're after a little kitchen inspo, we'll be sharing all the super simple, delicious recipes we've created specifically to support you during the cleanse.
Ready to GLOW? Here how to level-up your SWIISH Wellness cleanse game if you're looking for maximum results:
Cut coffee to 2 a day (max), having the last before 3 pm
If you can, kiss alcohol goodbye! Otherwise, keep it to 2 standard drinks a week
Avoid processed meals opting for fresh, wholesome food instead
Keep it moving. We're aiming for 30 mins of exercise, 5 days a week – anything will do! Walking, jogging, yoga, pilates, just find what works for you.
Try to hop into bed by 10 pm each evening
Aim to drink 2L of water every single day
ON THE MENU: WEEK 2
Eating the SWIISH Wellness way is easy. Every recipe we're making this week is super clean, simple to make, and tasty AF. Which will your favourite be?
Meal plan key:
DF = Dairy-free
GF = Gluten-free
GFO = Gluten-free option
V = Vegetarian
BREAKFAST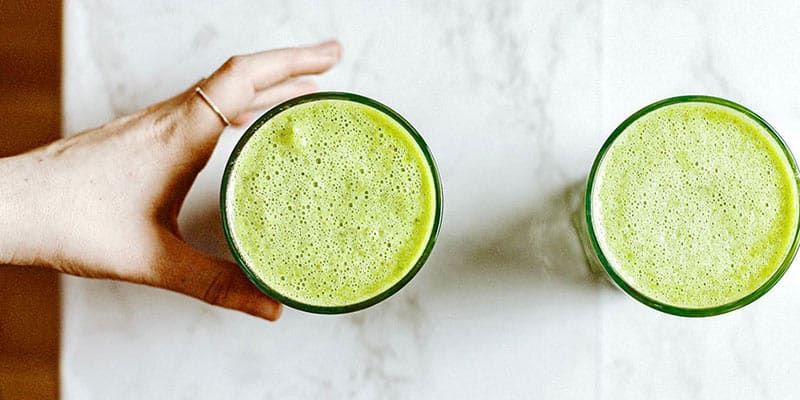 CLEAN GREEN BANANA SMOOTHIE (DF / GF / V) – A healthy twist on the classic banana milkshake. The chia seeds are great for your skin (thanks to their 0mega-3 content), not to mention they're also a great source of fibre to feed all the good bacteria in your gut.
SPICY SMASHED AVO WITH A TWIST (DF / V) – Smashed avo and a soft boiled egg. Name a more iconic duo, we'll wait. The reason we love good quality sourdough is that it has undergone fermentation, which is excellent for diversifying your gut bacteria (important for cognition, mood, skin health, and more!).
BERRY SKIN-LOVING OVERNIGHT OATS (DF / V) – The No.1 brekkie to prep in less than 5 mins the night before and grab to-go in the morning. It's easy, packed with omega-3's (the real skin MVP), and loads you up with beta-glucans (from the oats) that have been shown to help skin conditions.
LUNCH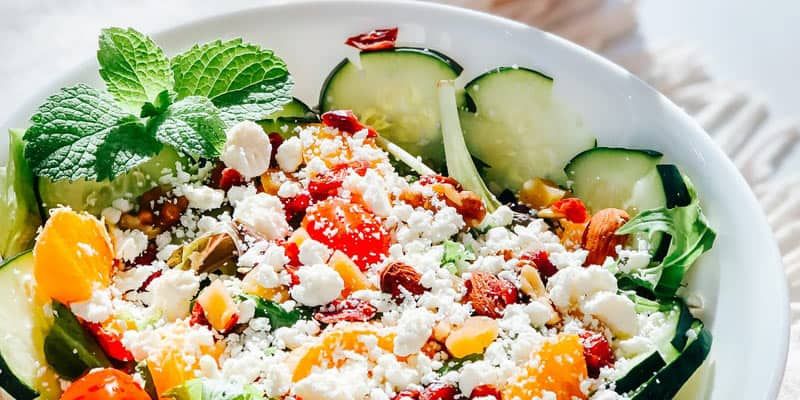 CHOPPED RAINBOW SALAD WITH TUNA  (DF / GF) – Prepped in under 5-mins, this colourful salad will have you feeling like a health goddess before you even eat it. The added tuna is an excellent source of selenium that helps maintain skin elastin, which keeps everything tight, firm, and plump.
MEDITERRANEAN FALAFEL WRAP (V) – These cleanse-friendly wraps are one of the easiest (and tastiest) ways to get your gut-loving green leafy veggies in for the day, helping to alkalise your body – one tasty bite at a time.
CHICKEN AND POMEGRANATE SALAD (DF) – This work-friendly salad will have the whole office drooling. The perfect blend of sweet and savoury – pomegranate is the ultimate beauty food that to help promote skin renewal and is loaded with enzymes that can even help minimise collagen breakdown. Cool, right?
DINNER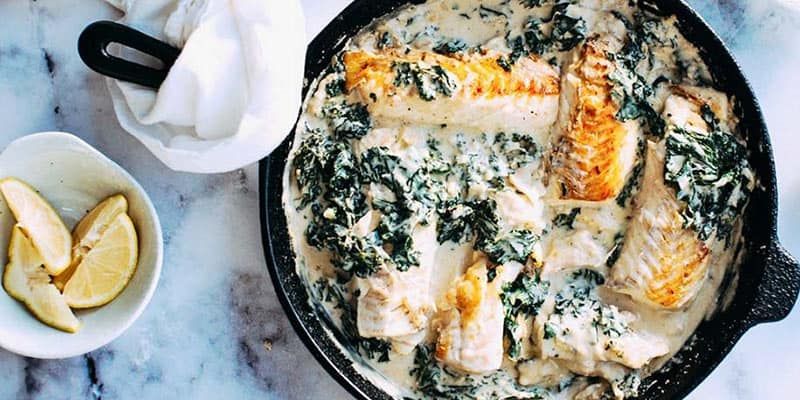 CREAMY 15-MINUTE ONE-PAN SALMON (DF / V / GFO) – This dish is ridiculously flavoursome – the fact that it's a one-pan wonder is just a bonus. The reason we're so salmon-obsessed throughout this cleanse is that it's loaded with omega-3's. Studies show that these essential fats are also an excellent source of prebiotics, helping to build a strong gut microbiome. Wowza.
TASTY TEX-MEX CHICKEN BURRITOS – Some days you just need a burrito – this cleaned-up version will satisfy those cravings. SWIISH Tip: Don't skimp on the coriander. This underrated super herb is high in vitamin C and beta-carotene – the super duo for helping reduce oxidative skin damage caused by things like stress, pollution, and UV rays.
LOADED MEXICAN SWEET POTATO NOURISH BOWL (DF / V) – Who doesn't love an easy bowl recipe? Especially one as tasty as this. Perfect for your meat-free night of the week, this is a Mexican-inspired, veggie-packed meal the whole family will love. The antioxidant-rich sweet potato is full of skin-nourishing benefits.
WEEK 2: BONUS CHALLENGE
This week, our bonus challenge focuses on movement – but it's not what you're thinking. We're keeping things simple with an ultra-energising yoga flow… one that, yes, even non-yogis will love. Taking only 1-minute each morning to do, you'll be surprised at what a difference it makes to your day. We recommend doing it the moment you roll out of bed. Get your flow on here.
We can't wait to hear how you guys are enjoying the cleanse! Don't forget to tag us @SWIISHwellness on your socials for a chance to be featured.
Cheers to Week 2 of the Gut and Skin reset!
Love Sally, Maha & Team SWIISH xx