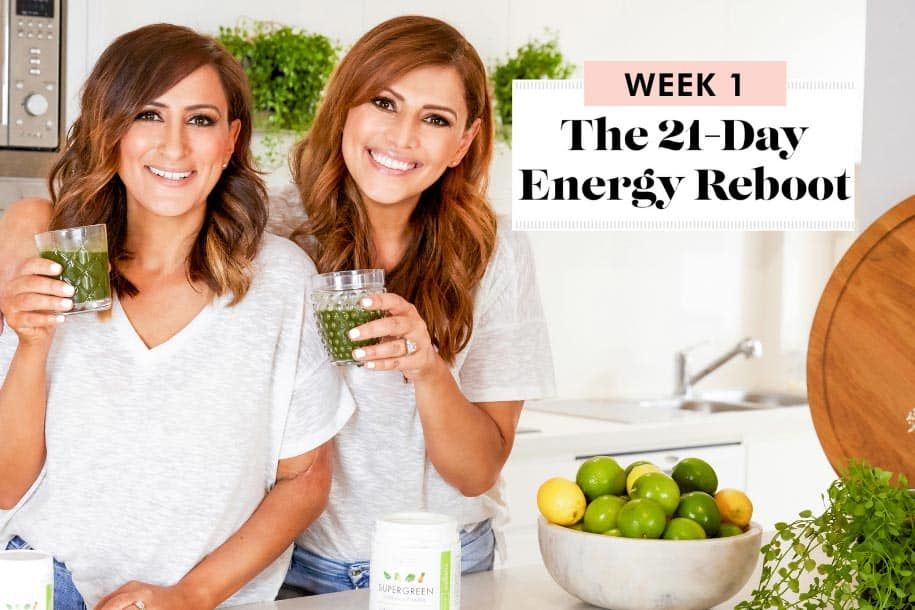 Are you ready for your official energy reboot? You've come to the right place. Cleanse 2.0 is all about extending our focus above and beyond the 21-Day Gut & Skin Cleanse to help you feel better than ever… because running on empty every day just isn't an option anymore!
HERE'S THE LOW-DOWN:
Following our super-easy cleanse regime each day this week by having:
The Gut-Skin-Energy Combo… that's 2 tsp GLOW Marine Hydrolysed Collagen Powder + 2 tsp FIBRE Cleansing Powder + 1 tsp SUPERGREEN Superfood Powder, twice daily, mixed into water or your drink of choice.
Haven't got your powders yet? No worries! Shop the Gut, Skin & Energy Combo – and save BIG while you're at it.
You can eat what you'd like throughout the cleanse – just remember to follow the guidelines of whole foods, lean protein, lots of fresh fruit and veg, and of course, good quality carbs. If you're looking for a little recipe inspo, we share all the tasty (and super simple) recipes we're eating this week below.
Ready to take Cleanse 2.0 to the next level? Try these extra challenges that #TeamSWIISH will be doing this week:
Cut coffee to 2 a day (max), having the last before 3 pm
If you can, say goodbye to alcohol! Otherwise, keep it to 2 standard drinks a week
Avoid processed meals opting for fresh, wholesome food instead
Keep it moving. We're aiming for 30 mins of exercise, 5 days a week – anything will do! Walking, jogging, yoga, pilates, just find what works for you.
Try to hop into bed by 10 pm each evening
Aim to drink 2L of water every single day
ON THE MENU: WEEK 1
Eating the SWIISH way means making meals that taste as amazing as they make you feel. Every cleanse-friendly recipe on the menu this week will help you feel amazing and was designed to help reset your gut, skin & energy levels, whilst tasting ridiculously yummy.
Looking for some healthy snack options? Check out our SWIISH list of cleanse-friendly snacks here.
Meal plan key:
DF = Dairy-free
GF = Gluten-free
GFO = Gluten-free option
V = Vegetarian
BREAKFAST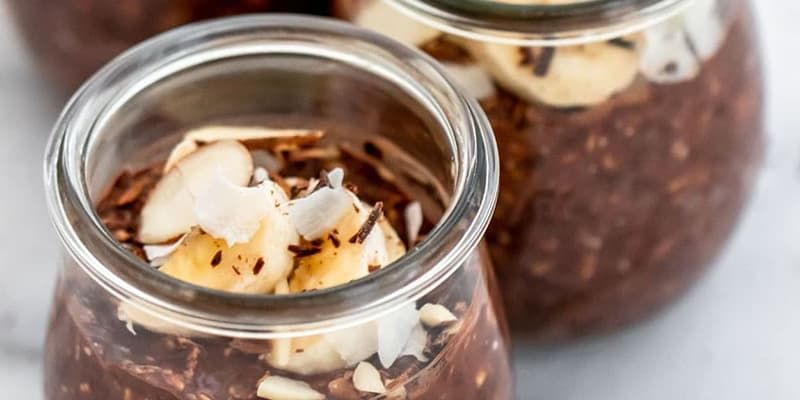 CHOC COLLAGEN & PB OVERNIGHT OATS (DF / V) – If there's one thing we love, it's a collagen-packed recipe that's easy to make and tastes damn delicious. This brekkie hits the spot. Collagen is the No.1 protein for skin strength, hydration, and elasticity – and when you add it to overnight oats that taste like a (healthy) Reese's Peanut Butter Cup, you know you've hit the jackpot. Enjoy, SWIISH Fam!
ZUCCHINI & CHICKPEA LOAF (V) – Flavoursome? Check! Easy to make? Check! Cleanse-approved? CHECK! This loaf is a "prep-me-at-the-beginning-of-the-week" kind of brekkie, infused with Italian spices as well as fibre-rich, gut-loving ingredients. We love slathering ours in smashed avo or ricotta and fresh tomato.
5-INGREDIENT NO-BAKE BREKKIE BARS (DF / V) – A prep-and-go brekkie to satisfy your sweet tooth – and still cleanse-friendly, of course. The MVP of these bars is cinnamon, a superfood that's seriously underrated. Excellent for blood flow, skin health, and its antioxidant superpowers – you'll find us adding it to anything we can.
LUNCH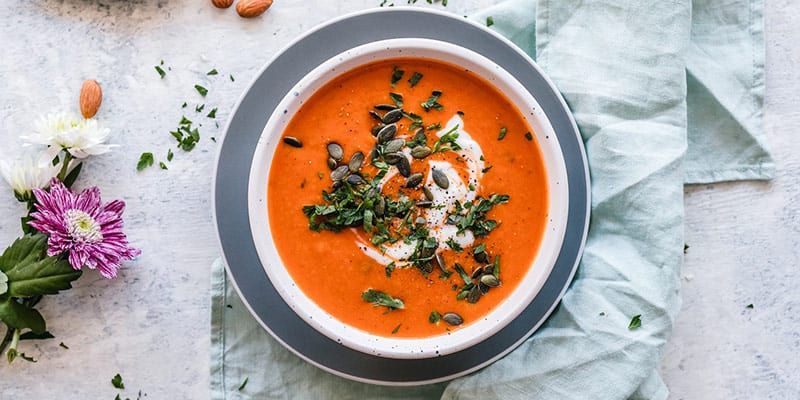 THAI-RRIFFIC SPICY SOUP (DF / V) – Seeing as we can't jet off on a holiday to Thailand right now, we're bringing the authentic flavours into our kitchen instead. This vibrant soup is loaded with antioxidants to support your body throughout the cleanse, whilst also giving your digestive system a good kick thanks to its spicy infusions.
CARAMELISED BALSAMIC CHICKEN & CHICKPEA SALAD – A scrumptious medley of chicken, balsamic vinegar, and cheeky chickpeas – you can't go wrong with this gut-supporting lunch (thanks to the chickpeas!) with its colourful medley of nutritious veg.
PULLED PORK MEXICAN WRAPS   (DF) – Looking for a work-friendly lunch that's as easy to make as it is to eat? This wrap is for you. It sneaks in a real nutritional punch thanks to coriander: a seriously SWIISH superfood that helps your body with all its antioxidant and anti-inflammatory needs. We're obsessed.
DINNER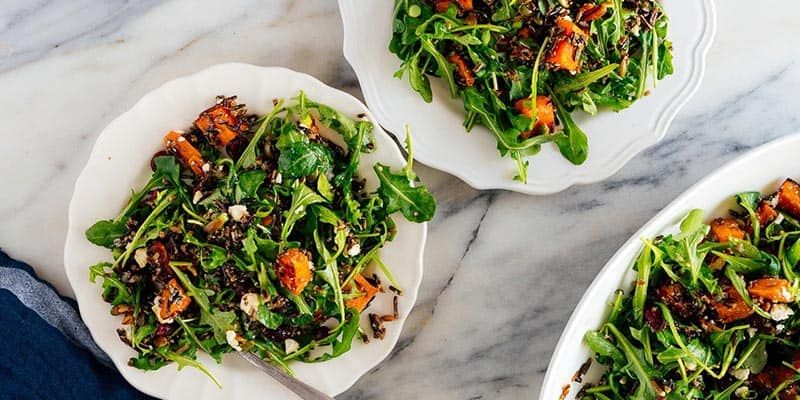 CRANBERRY & SWEET POTATO MONSTER SALAD (DF) – This mouth-watering giant salad will have you savouring every last bite. Rocket is one of our favourite cleanse-supporting superfoods because it's classed as a "bitter green" that helps trigger important digestive processes (such as bile production) in the body. Very cool.
12-MINUTE OLIVE AND ALMOND CRUSTED SALMON (DF) – Say hello to one of the easiest (and tastiest) dinners you'll ever make. A zesty, salty, flavour-packed infusion of olives, parsley, and lemon that nourishes your skin from the inside out, thanks to the omega-3 in the salmon.
HEALTHY SLOW-COOKED ITALIAN MEATBALLS  (DF) – A cleaned-up version of good old fashioned hearty meatballs, this recipe sneaks in a few healthy veggies that the kids won't even notice. Winning! Not to mention, it's also high in protein which is essential for the body during any cleanse or detox.
WEEK 1: BONUS CHALLENGE
Aim to get 5 minutes of sunshine each morning. This helps lower levels of your sleep hormone (melatonin) and encourages all your energising wake-up hormones to be released. How? The photoreceptors in your eyes and on your skin trigger the release of these important hormones in response to sunlight! Think of it like nature's own cup of coffee.
We can't wait to hear how you guys enjoy this first week of Cleanse 2.0! Don't forget to tag us @SWIISHwellness on your socials for a chance to be featured.
Happy cleansing!
Love Sally, Maha & Team SWIISH xx