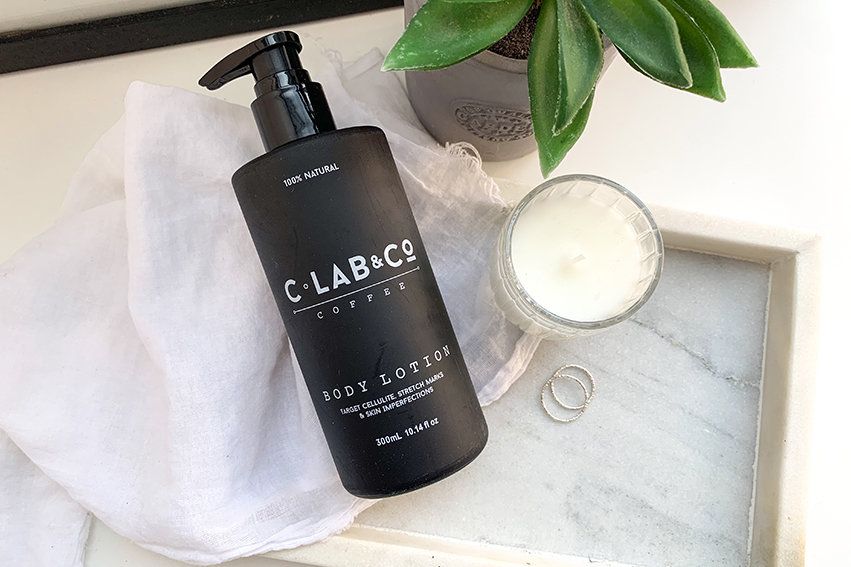 We are self-confessed coffee lovers here at SWIISH. Not just almond cappuccinos and matcha lattes though. We've long loved the benefits that can be found when coffee and beauty meet. 
Coffee scrubs are well known to help with the appearance of cellulite (to get the lowdown on our favourite coffee scrub, just go here, but now that beautiful coffee smell and amazing benefit has been extended beyond just scrubs. 
The original, all-natural coffee scrub brand C'Lab & Co have extended their body range to include two new 100% natural body care products. We just had the new Body Lotion land on our desk and we tell you, we've never smelt so good.
Just as addictive as our morning coffee, the C'Lab Body Lotion awakens the senses, thanks to the fusion of aromatic coffee beans with orange and coconut fragrance. (we told you it smelt good!!)
The coffee beans used in the C'Lab products are sourced from coffee enthusiasts who roast the beans to a level referred to as "just racked" which allows them to retain their natural oils. 
C'Lab Body Lotion is made with 100% natural ingredients which when it comes to skin care is become increasingly important for so many of us. Loaded with goodness this body lotion contains nourishing Shea Butter, Argan Oil, Cocoa Butter, Avocado Oil and Sweet Almond Oil all for satin-soft smooth skin. In addition, it's also infused with vitamin E, and grape extract. Quickly absorbing into the skin, with no greasy residue, the lotion left our skin feeling hydrated and replenished. 
Yep, we love this a latte. (Sorry we couldn't resist!)
Ready for your coffee hit?… head here.