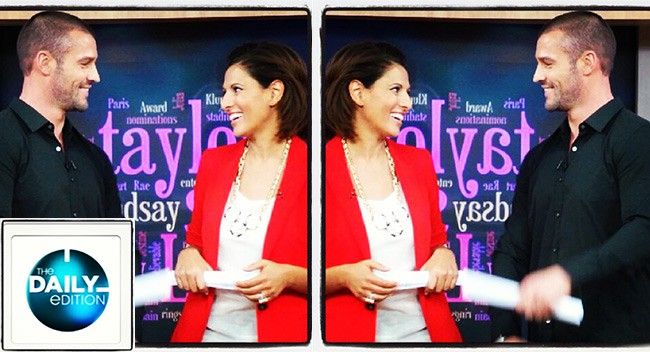 So as you may or may not have heard I am so excited to announce that I am co-hosting a new show! That's right, I'm now part of a really fabulous and very entertaining afternoon show on Channel Seven called The Daily Edition, and what's more – the lovely and very handsome Kris Smith will be my co-host. (now now ladies… try not to be too jealous… I promise to try and sneak as many of you onto set as I can!). We'll also be joined by Tom Williams and Monique Wright.
The Daily Edition will bring you the latest hot topics, celeb interviews, news updates and so much more. I'm already having such a ball preparing for the show. The picture at the top is Kris and I at our screen test. It was a mock set up, and not the real Daily Edition set – that's yet to be unveiled, but let me tell you, it looks fantastic. Below are a few pics as we've been out and about shooting this week in preparation for our launch on Monday.
Make sure you tune in and join us at 3pm starting next Monday 17th June. 
Also, follow us at @dailyedition7 on Instagram and Twitter to get the latest scoops and see more behind the scenes pics and videos.