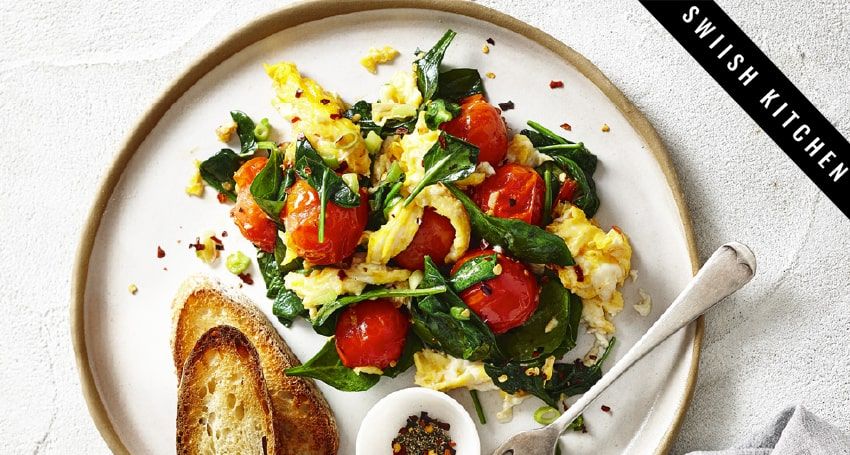 When we think about delicious, gourmet brekkie options, eggs are always the first thing that come to mind.  There's just something so satisfying about creamy scrambled eggs tossed with tomatoes and served with toasted bread.
If you're going to do eggs though, you've got to do them right.  With a couple of good cooking techniques and a few flavourful additions, you can turn a simple dish into something spectacular.  With blistered sweet cherry tomatoes, wilted spinach and a few carefully selected spices, our 'Rustic Tomato & Spinach Scrambled Eggs' are a total flavour bomb.  
Served with a side of crusty sourdough bread, this is one gourmet meal you can make in minutes.  About 10 minutes to be precise.  We even whip this one up before work sometimes!  Who says you have to save delicious brekkies for the weekend?  
Our favourite thing about this dish is that it's sooo satisfying and super healthy as well.  On top of being dairy-free, gluten-free, nut-free, sugar-free and paleo, each serve also comes in at under 350 calories.  Hooray!  
PS. You'll find heeeeeaps more gourmet brekkie options, along with other lean, healthy, delicious, quick and easy recipes in our cookbook, THE GOOD LIFE, which you can pick up now from our online store right here.